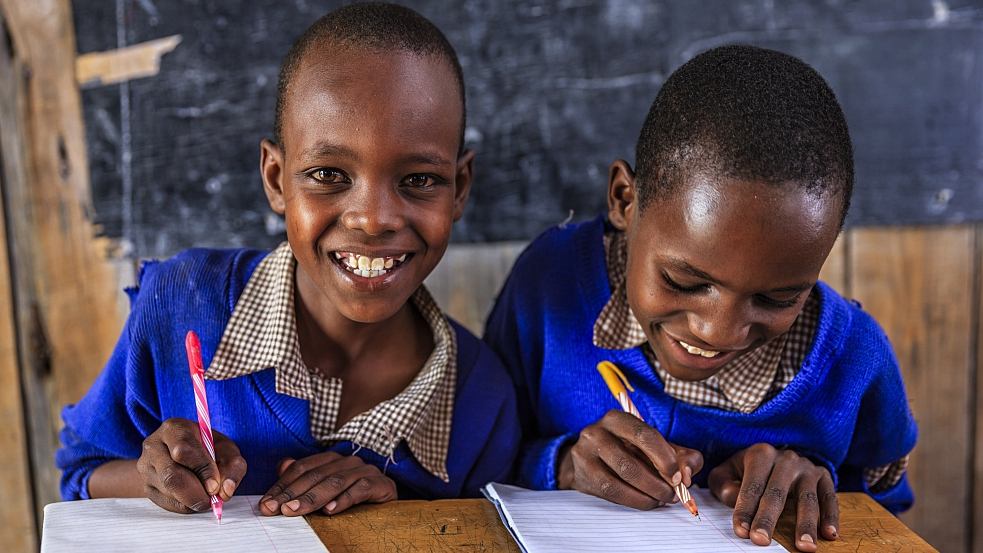 Digital Africa: It all starts with education
Read
5
minutes
by Kamal Bhattacharya
Editor's note: Kamal Bhattacharya is the CEO of an EdTech company, Mojochat and a commissioner for the Pathways for Prosperity Commission on Technology and Inclusive Development. The article reflects the author's opinion, and not necessarily the views of CGTN.
The fact that a Tanzanian start-up recently won a global award for educational technology should come as no surprise to anyone following the explosion of start-ups across the African continent.
Ubongo, the winner of the Next Billion EdTech prize, beat innovations from Brazil, Egypt, India, Pakistan and the United Kingdom with a program that leverages the power of entertainment, the reach of mass media and the connectivity of mobile devices to deliver localized learning to African families at low cost and broad scale.
The scale is the big question when it comes to the many such innovations being piloted across the continent. The real challenge is how to embed private sector developed technologies into public education systems to reach entire populations, including the poorest and most marginalized regions, not just the affluent and computer literate middle classes.
The scale is the key if we are to transform the educational attainment of the next generation of workers and prepare them for the jobs of the future in Africa.
Right now, sub-Saharan Africa lags behind other regions in both levels of education and investment in human capital as a whole.
Once children are in the classroom, they are by no means guaranteed a quality education, with huge class sizes and widespread teacher absenteeism, a problem across many emerging markets. Fewer than seven percent of students in late primary school are proficient in reading.
With an exploding youth population – predicted to be over one billion by 2050 – Africa has the potential to reap the so-called "demographic dividend," to harness the creative brilliance and entrepreneurial flair of the young to forge a new vision for Africa. But only if the education systems are fit for purpose.
Is going digital the solution? The answer is yes and no.
Education technology – or EdTech – is certainly in vogue in policy circles and increasingly with investors. The trouble is it is all too easy for policymakers to be dazzled by the promise of a piece of hardware for the classroom without a proper analysis of what it needs to make it work in their context. As an example, see the patchy success record of the "One laptop per child" initiative around the globe.
Digital technologies in themselves are not a silver bullet; they need to be thoughtfully introduced in conjunction with changes to curricula and adequate teacher training, i.e. the introduction of digital tools require a systemic change, not merely a shallow one. Most of all, they need to benefit everyone in society independent of their socio-economic circumstances, otherwise, there is a very real risk that tech will just deepen existing inequalities.
This is the key takeaway from a new report, "Positive disruptions: Health and Education in a Digital Age" from the Pathways for Prosperity Commission. It looks at the different way technology is being deployed in health and education in Africa and asks what it will take to scale up successful evidence-based innovations so they serve entire populations equitably.
The research shows there is plenty to be excited about. In Malawi, for example, personalized learning delivered via solar-powered tablets as part of the "One billion One course" initiative is having a significant impact on mathematics and literacy scores for primary school children, as well as closing the gap in performance between girls and boys.
In Kenya, for the past six years, the Tusome digitally-enabled literacy program which includes digitized teaching materials and teacher feedback mechanisms is now boosting learning performance by more than a quarter. On average, children across sub-Saharan Africa only effectively get five years of learning. If Tusome's success could be replicated across the region, it would mean millions of children are no longer left behind in education. It shows that when technology is used thoughtfully and judicially, positive disruption on a large scale is entirely possible.
Policy makers need to think big – and act soon.
These emerging successes only hint at the potentially transformative impacts to come. Innovations in the realm of machine learning, algorithms and communication technologies will soon allow us to completely reimagine the delivery of services. We will have the potential to break through the limitations of traditional brick and mortar schools towards personalizing the education of every single child without compromising the benefits that schools provide to teach children the social skills they need.
Governments – and their funding partners – need to be planning for scale. They need to ensure they have the right digital infrastructure in place and they need to be internalizing the right lessons from their own countries' experiences and those of their partners.
China is a case in point. We have much to learn from its technological revolution. Indeed, Kenya's President Uhuru Kenyatta was recently in Beijing talking about the Digital Belt and Road Initiative. He called on his peers from the BRI participating economies to encourage Information and Communication Technology (ICT) innovations and start-ups by
entrepreneurs, both as enablers for business and sources of jobs for the youth.
In my opinion, education must move to the top of the list of discussion topics. Societies have become smarter about enabling the business to flourish today; we have not done enough about transforming our education systems so we can create the workforce of tomorrow and it is about time.