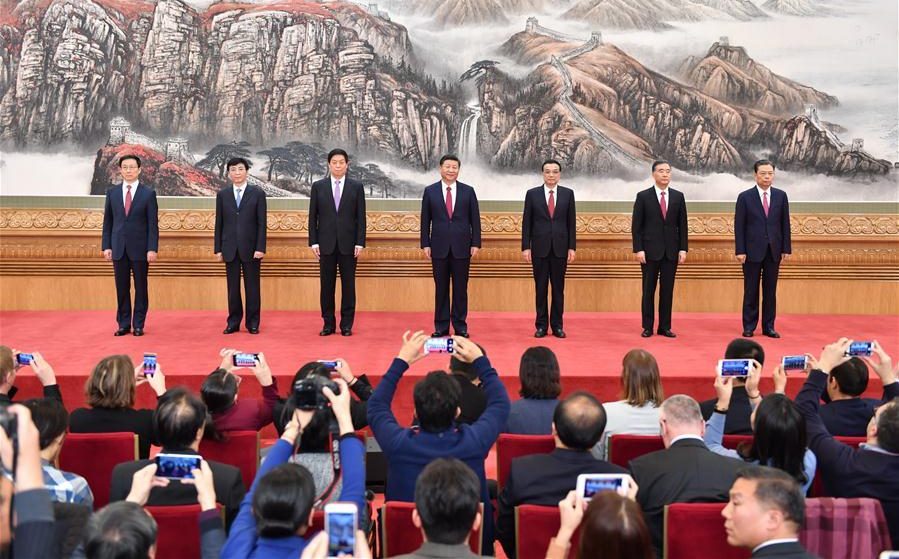 What China's 'New Era' means for Africa
Read
5
minutes
The curtain finally came down on the Communist Party of China's (CPC) 19th Congress held between October 18-24, 2017 at the Great Hall of the People in Beijing. General Secretary Xi Jinping seized the auspicious event to unveil his blueprint report on the 19th National Congress of the Communist Party of China and its impact on China and humankind as over 2000 delegates listened in rapt attention.
Exhibiting a strong hand of executive authority and directness of purpose in a speech full of exuberant complexities, General Secretary Xi outlined his strategy to oversee a new era of socialism with "Chinese characteristics" as the new zeitgeist. His strategic vision in the "new era" entails completing the formation of "a moderately prosperous society in all respects" and proceeding to "basically realise modernisation, and then move on to turn China into a great modern socialist country in every dimension."
In the report, General Secretary Xi also stressed that China will deepen its role in encouraging international cooperation, especially that developing in the light of the One Belt One Road initiative. Coming from a nation that has in the recent past perpetually excited our curiosity on its increasing role in fostering globalisation, this position is most welcome and is further perfectly illustrated and exemplified by Xi's declaration that "China's open door will not be closed, it will only be opened wider."
General Secretary Xi's encouraging message to the world is best exemplified by his revelation that China aims to build a community with a shared future for mankind that is in sync with the current global situation. It is a message that is meant to electrify the world into activity that blends into harmony under socialism with "Chinese characteristics". This "new era" is not only focused on globalisation and equitable development but also adheres to principles of respecting national sovereignty and non-interference.
China's role in the international community, especially in the global governance, trade and maintaining world peace is also increasing to a level commensurate with its increasing economic might as the current second largest economy that is poised to usurp the United States position over the next decade as the world's leading economy.
The import of that position is that CPC's strategy will be an inspiration for other countries to gain from the Chinese experience of unparalleled development and almost miraculous growth made over the past two decades, as well as the socio-economic conquest in uplifting 660 million of its citizens out of poverty without compromising their sovereignty.
In the latter respect, China is now eliminating poverty at a rate of 12 million per year which means that by the end of General Secretary Xi's second term, China is on course to totally overcome and vanquish this scourge.
The model China has employed to attain this remarkable achievement is under close scrutiny by African scholars and policymakers with a view to replicating some of the key features and extending them to the continent's unique characteristics.
China's new leadership lineup is a statement of continuity, poise, dignity, and reserve and this is good news for Africa.
This projection of stability, particularly in transition politics, is being closely watched in Africa particularly because democratic power transitions in Africa have traditionally been characterised by contestations and conflict – thereby disrupting socio-economic development.
Africa can learn a lot about the kind of harmony, order, and sublimity that leads to seamlessly flawless political transitions or successions that is lacking in many parts of the continent.
China has also outlined its guiding principles going into the future and the expectation in Africa is that there will be more impetus on sharing the Chinese socialist model and increased interaction between Africa and China over the next five years.
Africa should position itself to benefit more from engaging with China by articulating its converged priorities better and further align these matters to China's ambitious blueprint, particularly as the CPC edges closer to celebrating its 100 years of existence.
This includes creating new opportunities, particularly in increased income from processed agri-produce. There should also be an emphasis from Africa on trade policies that favour the opening of new markets for African processed goods in China, and the rest of Asia, through incentives that directly encourage the uptake of African products through joint standardisation and quality control measures.
Ultimately, it boils down to whether Africa can take a pragmatic approach to its engagement with China by taking advantage of the excellent Sino-Africa ties to identify the growth opportunities. This includes taking advantage of General Secretary Xi's Forum for Chinese African Cooperation (FOCAC); the Belt and Road initiative (BRI); BRICS Plus initiative, whereby Kenya and Egypt are now members, and a wide variety of think-tank engagements such as the Memorandum of Understanding on Research Cooperation between the Africa Policy Institute with both the Chinese Academy of Social Sciences and the Shanghai Institutes of International Studies.
Following the CPC Congress, Africa expects to play a major role in, and benefit from, China's new era. This new model, as General Secretary Xi says, offers a "new option for other countries and nations who want to speed up their development while preserving their independence".
This new era will build on General Secretary Xi's 2015 announcement of a planned investment of $60 billion in development projects across Africa. This aims to increase health, infrastructure, industrialisation and works to reduce poverty on the continent – even as Africa helps close the gap in China's increasing requirement for natural resources, raw materials and products. This scenario translates to, and builds on, what General Secretary Xi refers to as developmental peace and "win-win" cooperation with Africa.
Dr. Robert Kagiri is a Researcher and Policy Analyst on Strategy, Governance and Security Policy issues at the Africa Policy Institute.
The author's views do not necessarily reflect CGTN Africa's editorial policy.