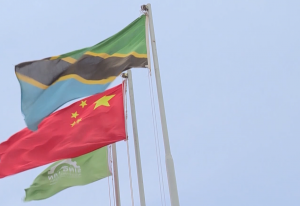 2023 marks a decade since Chinese President Xi Jinping made his first visit to Africa
Read
2
minutes
It is now ten years since Chinese President Xi Jinping made his first visit to Africa, with Tanzania being his first stop on the continent. Data now shows that since that maiden visit, 845 investment projects have been activated, totaling to an investment value of $7.8 billion.
China has become Tanzania's number one trading partner as manifested in the official data where the current trade volume between the two countries stands at 6.74 billion dollars.
According to Gilead Teri, who heads the Tanzania Investment Centre, hundreds of Chinese projects have not only brought revenue but created over 100,000 jobs in the country.
"We have attracted close to U.S. $10 billion worth of investment from China. But guess what, 7.8 (billion dollars) of it came in the last 10 years. So, when president Xi visited Tanzania in 2013, he came around with a delegation of close to 100 business people and investors. And that was a dawn of a new relationship between the people of Tanzania and China," he said.
Infrastructural development cooperation between the two countries started in the 1970s when China helped Tanzania and Zambia to build the TAZARA railway that connects the two countries. A project that was central in improving transport and logistics for the two neighbors.
CRJE was one of the Chinese companies that constructed the railway back then. They are also responsible for building Johari Rotana, one of Dar es Salaam's popular 5-star hotels.
"We chose to stay here and based our business from that time. It has been nearly 50 years since then. We delivered a lot of construction projects. Like the Nyerere bridge and 90 percent of five star hotels are constructed by us," CRJE Investment Manager Doris Zeng, said.
The projects have helped develop Tanzania's tourism industry – which now accounts for 17.5 percent of GDP.
Tanzania and China have also signed bilateral agreements – bringing to life big projects for instance the Sino-Tan industrial park which will be the country's largest factory park, and the Palm Village apartments. Among many of the projects the Johari Rotana stands out as special for both countries.
Mwalimu Nyerere Foundation Hallways is a building that was put up in 2019 to honor the relationship between China and Tanzania. One side houses a Chinese-owned hotel and the other is the home of the foundation of Mwalimu Nyerere who's considered Tanzania's founding father".
However, some economists have warned that Chinese assistance and loans could leave African economies highly vulnerable to debt distress.
But Francis Matambalya, the head of the Mwalimu Foundation says China's assistance is all about a win-win situation.
"When we were looking for a partner to put up a building like this one, we went all over the world. We didn't get a partner under the conditions in which the Chinese were ready to work with us. So they made their money available to put up this 30 story building under build, operate and transfer," he said.
The government hopes that the partnership with China forged over decades ago can continue to stand the test of time. And through that, lead to improved livelihoods and Tanzania's economic development.
(Report by Daniel Kijo)