Jacques Nienaber, head coach of South Africa, and Siya Kolisi, captain of South Africa, pose with the Webb Ellis Cup during the South Africa winners portrait shoot after the Rugby World Cup final match. /CFP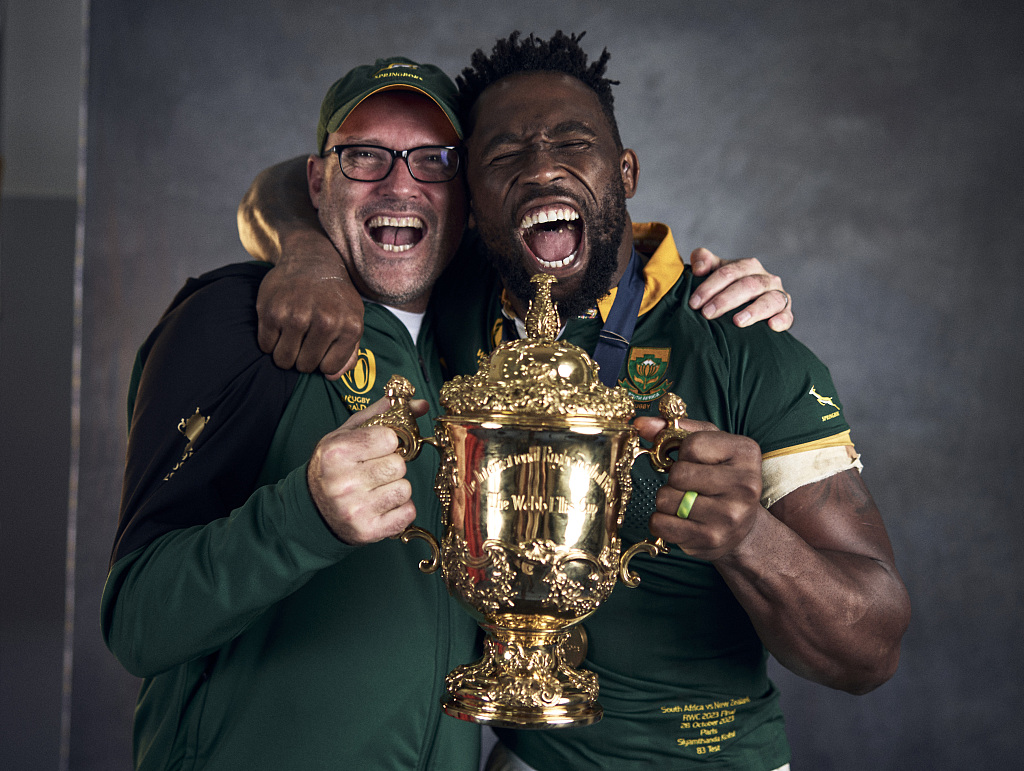 Siya Kolisi committed to Springboks ahead of Racing 92 move
Read
2
minutes
Siya Kolisi has no plans to retire from international rugby and will continue to be available for South Africa, he confirmed on Tuesday when he arrived home to a hero's welcome after clinching back-to-back World Cups titles in France.
Thousands of Springbok fans welcomed the team at the airport following their epic 12-11 final victory over old foes New Zealand on Saturday, which secured them a record fourth World Cup title.
Kolisi, 32, will play for French Top 14 club Racing 92 this season and said he still had the hunger to represent the Boks.
"Nothing will change, I will still be up for selection," he told reporters. "Whether I will be captain, I don't know, that is up to the new coach, but what matters most is playing in the Springbok jersey.
"As long as I get selected, that is all I care about. I am looking forward to the new journey (in France), hopefully it will go well."
Kolisi said the Springboks' success should be a beacon of hope for many around the country, as several of the squad have risen from impoverished backgrounds to be world champions.
"We are a diverse and beautiful team from all walks of life. This trophy is for those who come from tough, disadvantaged areas.
"For the kid who needs to know that while things are tough for you, and you can't afford school fees, you have no shoes to walk to school and no food at home, you can make something out of your life. Even when the situation does not look hopeful.
"We come from those backgrounds, this team represents everybody. We want people to say, 'who can I look to that has made it from this situation', and that is us. You can look at this team."
Head coach Jacques Nienaber will leave for a role at Irish side Leinster, but hinted he could be back in the future.
"People think it is the end, but what I have learnt is that we can plan our lives all we want, but you never know (what will happen)," Nienaber said.
"It is the end for now with this group, but is it my last time with the Boks? I can't say that."
The team embarks on a four-day trophy tour around major centres in South Africa from Thursday.