Signboards of the 15th BRICS summit are seen in a street of Johannesburg, South Africa, August 17, 2023. /Xinhua
BRICS countries collaborate on energy cooperation to tackle climate change
Read
4
minutes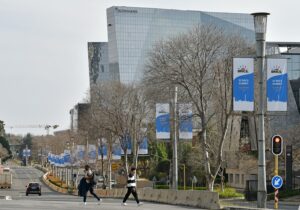 Amid growing concerns regarding the climate crisis, the BRICS countries are collaboratively addressing the impacts of climate change, with energy collaboration standing out as pivotal in their discussions.
The group consists of major emerging economies, including Brazil, Russia, India, China, and South Africa. Recognized for their abundant natural resources, these countries play a crucial role in shaping the global energy agenda, in line with their substantial share in world's energy production and consumption.
An eminent hallmark of the BRICS countries lies in the diverse range of energy resources each nation brings to the table, which could help to reduce dependence on fossil fuels.
This includes the vast oil and natural gas reserves of Russia, the expansive biofuel capabilities of Brazil, the growing solar and wind energy sector of India, the strategic investment in hydropower of China, and the steadfast dedication to renewable energy converge of South Africa.
China's role in green development
While China's rapid industrialization and economic growth traditionally relied heavily on coal, the country has been seeking ways to diversify its energy sources through partnerships with fellow BRICS members. This has yielded an increase in China's energy product imports.
In the first seven months of 2023, China imported 422.78 billion yuan (around $58.57 million) of energy products such as crude oil, coal, lignite, and natural gas from other BRICS countries, up 17.3 percent from the previous year, accounting for 36.7 percent of China's total import value, data from the General Administration of Customs shows.
Meanwhile, mineral sand and copper ore, alongside other metal ore, took up for 15.7 percent of China's total import value from fellow BRICS nations.
Apart from imports of energy products, China has been seeking collaboration with fellow member nations in green energy development over the past years.
For instance, the largest wind power project that completed in 2015 in South Africa, played a significant role in alleviating the country's energy shortage, a major hurdle impeding the continent's industrialization.
The project, invested by China's Longyuan Power and its South African partners, also contributed to facilitating South Africa's transition to a low-carbon economy.
The wind farm can yield a consistent supply of clean power, producing approximately 760 gigawatt hour (GWh) annually. This is equivalent to the energy output generated by burning 215,800 tonnes of standard coal, leading to a substantial reduction in the emission of approximately 619,900 tonnes of carbon dioxide.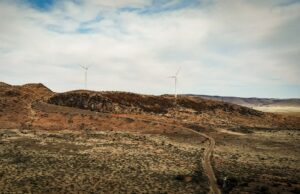 In 2019, a 50MW solar power farm collaboratively designed and constructed by Chinese engineers and Kenya's Ministry of Energy, was put into operation in Garissa, Kenya.
As one of the largest photovoltaic electricity stations in Africa, the solar facility can generate 76 million kWh of electricity on average annually, sustaining over 380,000 individuals across 70,000 families. It alleviates Kenya's energy deficit, propelling the country towards a path of self-sufficiency in green energy.
Developing clean energy and building a modern energy system are both important for Africa, according to Wei Hanyang, a power market analyst at BloombergNEF.
The collaboration between China and African nations has increasingly centered on new energy and green development in recent years, with energy development being a longstanding cornerstone of their cooperation, he said.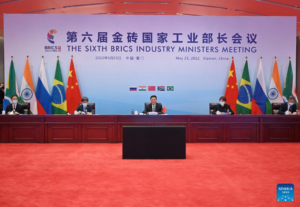 On the path of renewable energy collaboration
Over the past decades, the BRICS countries have intensified collaborations in the energy sector. They have pooled their resources to expedite the shift from fossil fuels to more environmentally friendly alternatives.
Back in 2009, during the first BRICS Summit in Yekaterinburg, Russia, member countries underscored the need for cooperation in the field of energy efficiency. In the Delhi Declaration 2012, the leaders affirmed their commitment to multilateral energy co-operation within BRICS framework.
In 2015, the first BRICS Energy Ministerial was held to institutionalize energy cooperation within BRICS. A Working Group on Energy Savings and Energy Efficiency was established to pursue energy cooperation through joint research and technology projects.
The working group convened for its inaugural meeting under India's leadership in Vizag in 2016. During this meeting, a joint statement was issued, outlining an Action Plan for the Working Group focused on Energy Savings and Energy Efficiency.
In the 2017 Xiamen Declaration, BRICS leaders expressed their support for ongoing discussions regarding the formation of a collaborative platform known as the BRICS Energy Research Cooperation Platform (BRICS ERCP).
Subsequently, in 2019, under the Brazilian Chairship, the meetings of BRICS ERCP were inaugurated. A committee of senior officials oversaw these meetings, during which the terms of reference for BRICS ERCP were adopted.
Last year, member countries reaffirmed their collective dedication to tackling climate change. They delved into strategies for expediting the shift towards a low-carbon trajectory during the BRICS High-level Meeting on Climate Change.
During the meeting, China expressed its intention to launch joint projects in areas like clean energy and low-carbon technology, and to continuously work with fellow member countries to achieve the goals of the UN Framework Convention on Climate Change and the Paris Agreement.