View of the third Belt and Road Forum for International Cooperation themed landscape outside the China National Convention Center in Beijing, China, October 17, 2023. /CFP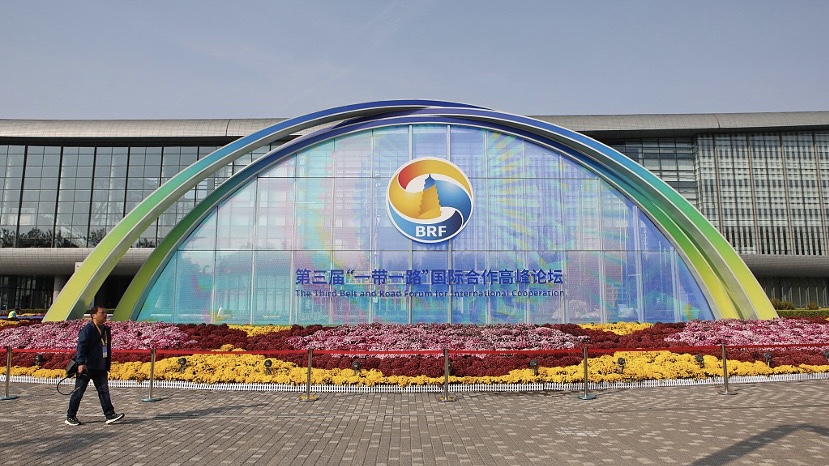 Xi Jinping says humankind is a community with shared future
Read
2
minutes
Chinese President Xi Jinping said on Wednesday that humankind is a community with a shared future.
"China can only do well when the world is doing well. When China does well, the world will get even better," Xi said.
He said that through Belt and Road cooperation, China is opening its door even wider to the world, with its inland regions turning from "fullbacks" into "forwards," and coastal regions scaling new heights in their opening-up.
China has become a main trading partner of more than 140 countries and regions and a primary source of investment for more countries. Both Chinese investment overseas and foreign investment in China have boosted friendship, cooperation, confidence and hope, according to Xi.
Win-win cooperation is the sure way to success in launching major initiatives that benefit all, Xi said.
He pointed out that when countries embrace cooperation and act in concert, a deep chasm can be turned into a thoroughfare, land-locked countries can become land-linked, and a place of underdevelopment can be transformed into a land of prosperity.
"Countries taking the lead in economic development should give a hand to their partners who are yet to catch up. We should all treat each other as friends and partners, respect and support each other, and help each other succeed," Xi said.
Xi added that as the saying goes, "when you give roses to others, their fragrance lingers on your hand." In other words, helping others is also helping oneself.
Xi noted that viewing others' development as a threat or taking economic interdependence as a risk will not make one's own life better or speed up one's development.
The Silk Road spirit of peace and cooperation, openness and inclusiveness, mutual learning and mutual benefit is the most important source of strength for Belt and Road cooperation, Xi said.
"I once said that the pioneers of the ancient silk routes won their place in history not as conquerors with warships, guns, horses or swords. Rather, they are remembered as friendly emissaries leading camel caravans and sailing ships loaded with goods," Xi said.
"Belt and Road cooperation is based on the belief that flame runs high when everyone adds wood to the fire and that mutual support can get us far," he added.
Xi noted that such cooperation seeks to deliver a good life not only to people of just one country, but to people in other countries as well. It promotes connectivity, mutual benefit, common development, cooperation and win-win outcomes.
"Ideological confrontation, geopolitical rivalry and bloc politics are not a choice for us. What we stand against are unilateral sanctions, economic coercion and decoupling and supply chain disruption," he said.