A street view of Johannesburg, South Africa, August 17, 2023. /Xinhua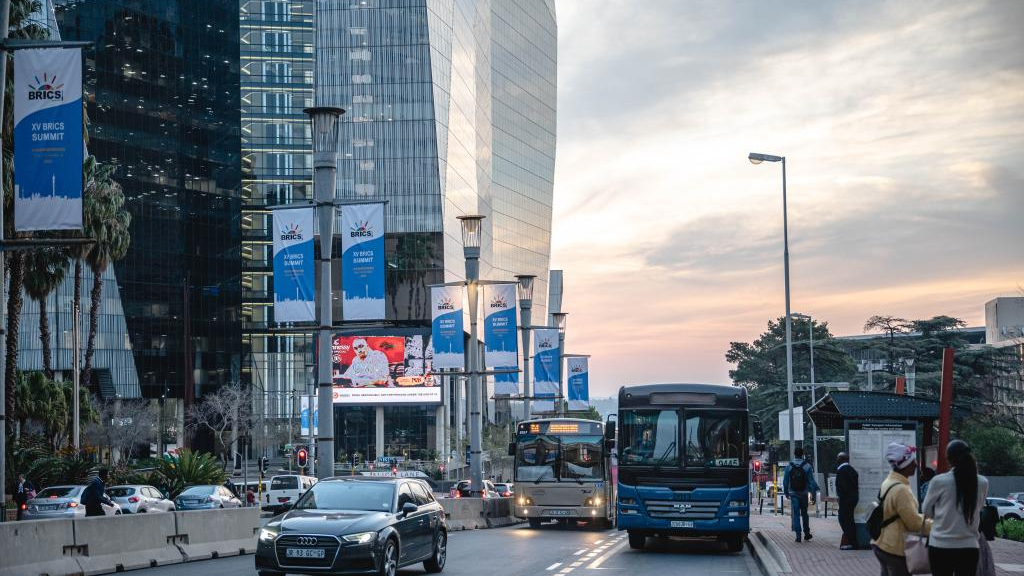 What BRICS Summit could offer for the development of African countries
Read
3
minutes
Under the theme of "BRICS and Africa," BRICS leaders will meet and discuss how the bloc can partner with Africa to achieve mutually accelerated growth, sustainable development and inclusive multilateralism.
As the 2023 chair of the group, South Africa has invited heads of state of all African countries to the 15th BRICS Summit, including leaders from the African Union and regional economic communities as well as business leaders.
The summit this year is set to be held from August 22 to 24 in Johannesburg and is expected to be one of the largest, with over 40 heads of state and governments having confirmed their attendance.
An acronym for five emerging economies – Brazil, Russia, India, China and South Africa – BRICS represents about a quarter of the global gross domestic product (GDP) and some 40 percent of the world population.
So far, over 20 countries have formally applied to become new BRICS members. Algerian President Abdelmadjid Tebboune said joining BRICS will enable his country stay away from global polarization.
In addition to BRICS membership expansion, the summit will also focus on strengthening financial support for the African continent and helping it cope with climate change.
African issues high on the agenda
South Africa will advocate for the integration of the African continent and the discussion of African matters at the upcoming BRICS Summit, the Department of Trade, Industry and Competition said in a statement earlier.
The summit will discuss ways to diversify exports toward value-added trade, and increase productive capacities, entrepreneurial opportunities and skills dividend in Africa, according to the statement. More topics include efforts to increase investment flows to Africa, and boost technology transfer and employment opportunities on the continent.
Formally opened in July 2015, New Development Bank (NDB) plays an important role in boosting the BRICS' investments in Africa. Analysts said it established a new funding model that promotes multi-country projects which could accelerate the pace of regional integration of African countries.
In an interview with Xinhua, Leslie Maasdorp, NDB vice president and chief financial officer, said the Shanghai-based bank has approved 98 projects with a total value of 33.2 billion U.S. dollars, greatly contributing to the economic development of its member countries.
The bank has deepened the green and sustainable credentials, as around 40 percent of its projects are focused on climate change mitigation and adaptation. Maasdorp said NDB will continue to deepen local currency and climate financing.
Siphamandla Zondi, professor in politics and international relations at the University of Johannesburg, said the NDB adds another source of finance which is critical for improving infrastructure of agriculture production and digital transition in Africa.
The process of getting a loan or investment from the NDB is much easier, without requirements of political interference which is common with other funding sources, said Diego Martins, a researcher with the International Institute for Geopolitics and Strategic Intelligence (IIGSI). He believes the NDB provides the world with new possibilities and better environment for economic development.
Trade and investment opportunities
China is Africa's largest trading partner. Trade volume between China and Africa increased from 10 billion U.S. dollars in 2000 to 282 billion U.S. dollars in 2022, data from the General Administration of Customs of China showed. It posted a cumulative increase of more than 20 times, with an average annual growth rate of 17.7 percent.
India, another member of the bloc, became Africa's third-largest trading partner in 2021. Bilateral trade between India and Africa stood at about 98 billion U.S. dollars in 2022-23, a significant increase from 7 billion U.S. dollars in 2001, according to data from the Ministry of Commerce and Industry, Government of India.
According to the United Nations Conference on Trade and Development (UNCTAD), the share of BRICS foreign direct investment (FDI) outflows had reached 20 percent of global flows by 2020. It marked a historic high in 2021 at almost 250 billion U.S. dollars. In the past decade, the annual growth rate of the bloc's FDI outflows remained more than 10 times larger than the global average.
Attracted by emerging middle class, rising consumer demand, and improving business environment in Africa, the BRICS are also becoming significant investors of the continent.
For instance, China's greenfield FDI in Africa reached 74 billion yuan (10.14 billion. U.S. dollars) from 2017 to 2022, accounting for 18 percent of the global greenfield FDI inflows into Africa, according to the latest Africa's Dynamic Development Report, which is jointly released by the OECD and the African Union.
A Confederation of Indian Industry (CII) report released in July 2022 said that India has invested 74 billion U.S. dollars in Africa since April 1996, and Indian investments in Africa can go up to 150 billion U.S. dollars by 2030. Meanwhile, Brazil and Russia have been involved in sectors such as agriculture, mining and energy in Africa through public-private partnerships.
The partnership between BRICS and Africa has promoted the development of various areas on the continent, such as poverty reduction, food security, innovation, infrastructure construction and industrialization