Patients sit on the beds at a makeshift MSF hospital on the day U.S. Ambassador to the United Nations, Linda Thomas-Greenfield, visited the hospital, in Adre, Chad, on the border with Sudan, September 6, 2023. REUTERS/Michelle Nichols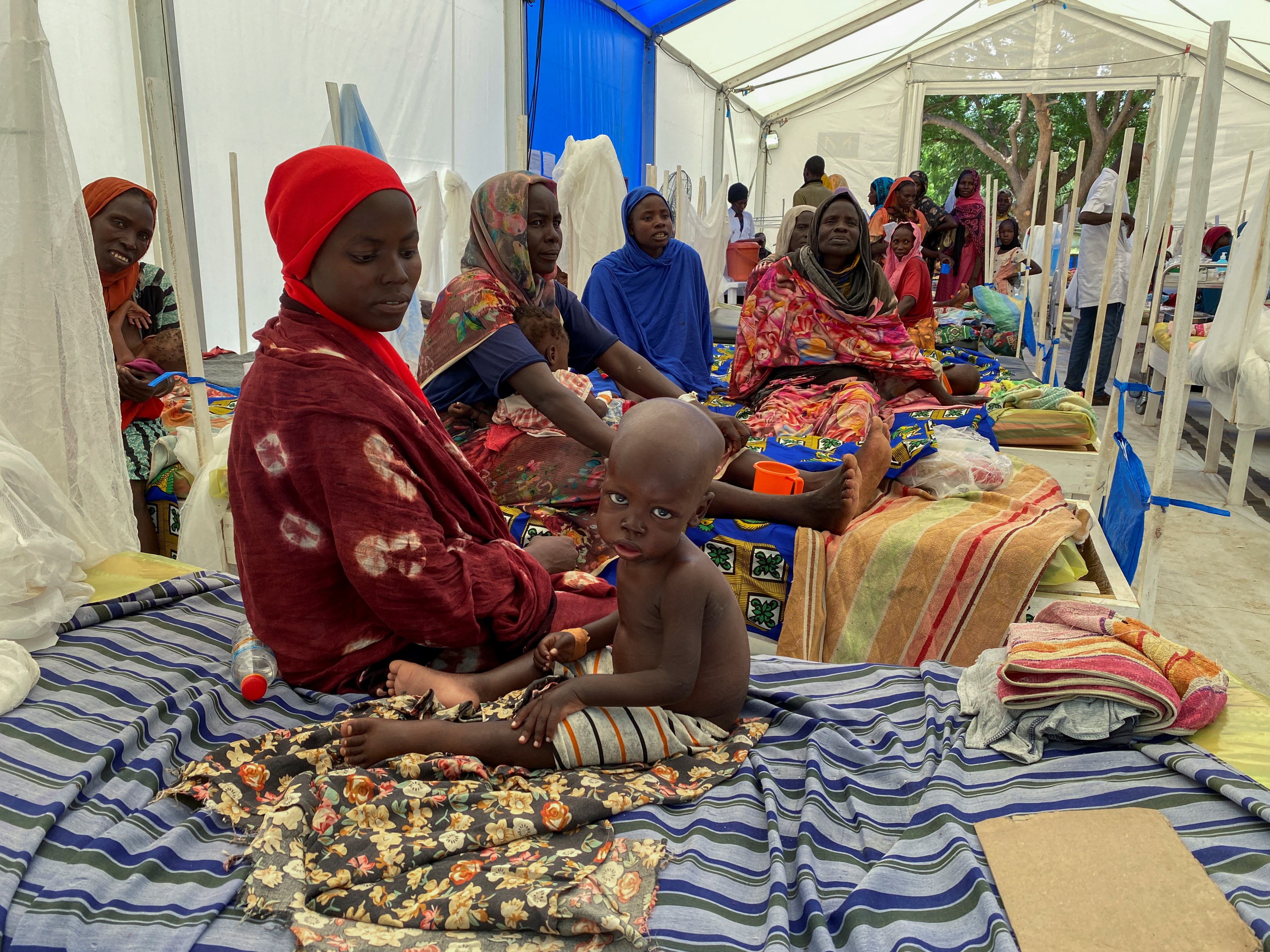 Sudan medics warn that cholera and dengue fever are spreading
Read
2
minutes
Medics in Sudan have warned that cases of cholera and dengue fever are spreading due to the arrival of seasonal rains and the impact of more than five months of war on a health system that was already struggling before fighting began.
Health authorities have confirmed cases of cholera for the first time since the war between rival military factions began in mid-April, saying that the earliest case had been detected in al-Qadarif state in late August.
The federal health ministry said in a statement late on Tuesday that 18 people had died and 265 infected with cholera in al-Qadarif state.
A doctors' syndicate in Sudan said 3,398 cases of dengue fever were recorded across al-Qadarif, Red Sea, North Kordofan and Khartoum states between mid-April and mid-September.
"These numbers represent the tip of the iceberg and are much lower than suspected cases in homes and from those buried without record," the statement said.
It cited the pollution of drinking water from unburied bodies as well as waste, and the lack of preparation of health services before the rainy season, as contributing factors.
Residents in al-Qadarif, an eastern state that is crucial to Sudan's rain-fed agricultural production and borders Ethiopia, told Reuters that dengue fever, malaria, cholera and diarrhoea had been spreading partly due to a lack of rainwater drainage and that health facilities were severely overcrowded because of the arrival of people displaced from Khartoum.
There have been dozens of attacks on healthcare facilities since conflict erupted between Sudan's army and the paramilitary Rapid Support Forces (RSF) on April 15. Most hospitals in Khartoum have been put out of service.
More than 4.2 million people have fled their homes because of the war, and nearly 1.2 million have crossed to neighbouring countries, putting huge pressure on Sudan's meager resources. International relief efforts are severely underfunded.
Last week the United Nations said more than 1,200 children had died of suspected measles and malnutrition in refugee camps in Sudan's White Nile state, and that cholera, dengue fever and malaria posed a risk across the country.
Dengue fever is endemic in Sudan. It can be more severe and sometimes fatal on repeat infection, making its containment a long-term concern.