Rugby Union - Rugby World Cup 2023 - Semi Final - England v South Africa - Stade de France, Saint-Denis, France - October 21, 2023 South Africa's RG Snyman, Deon Fourie and teammates celebrate after the match as South Africa reach the final . /REUTERS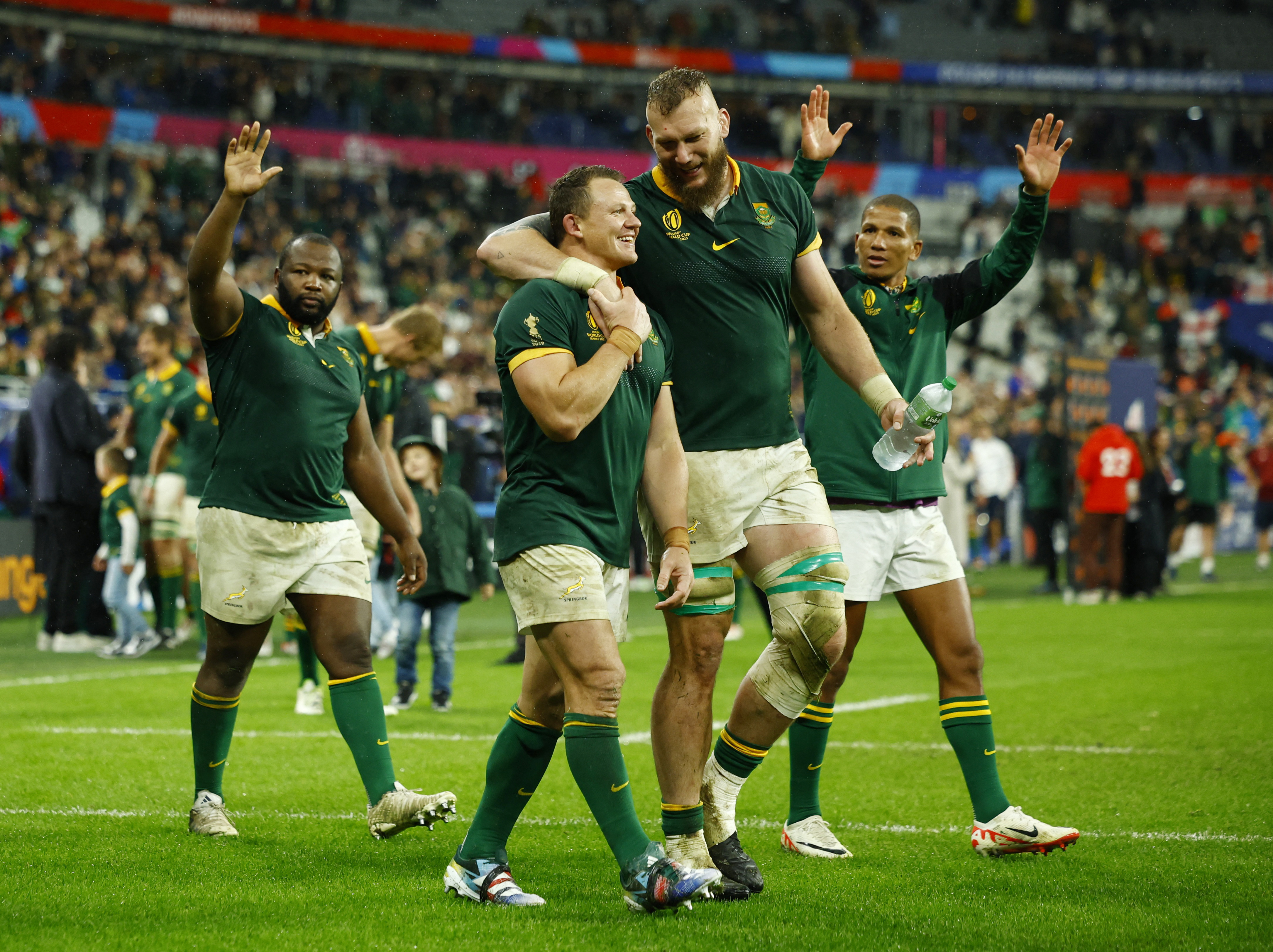 Springboks adapted better to wet conditions to claim last-gasp win claims coach
Read
2
minutes
South Africa adapted better to poor conditions in their Rugby World Cup semi-final against England and were therefore able to sneak a narrow victory but need to make improvements before Saturday's final, forwards coach Deon Davids said on Sunday.
South Africa won by a single point at the Stade de France for a second successive week, overcoming England 16-15 on Saturday to book a place in the final against New Zealand.
"The conditions out there were very, very difficult for both teams, especially in terms of the grip of the ball. It was rainy and slippery out there and both teams struggled with their execution in terms of that," David said of the game against England, where South Africa came from behind in the last 10 minutes to edge it.
"The mauling didn't go our way all the time, we didn't get the reward that we wanted all the time. But if you look closely at it, we might have been unlucky at certain times not to get better rewards, whether it was our own control or whether it was possible infringements that weren't clearly seen by the officials.
"But you know, that's part of the game. We will have to look at how we can improve but also well done to England, I think they were well-coached. They brought extreme challenges in different areas of the game.
"As the game wore on, I'm just glad we adapted better and executed better," Davids told a press conference.
The Springboks, who had narrowly beaten hosts France 29-28 in the quarter-final, now face old foe New Zealand, who had a much more comfortable semi-final in Paris on Friday when they scored six tries without reply against Argentina and romped to a 44-6 win.
South Africa inflicted on the All Blacks their heaviest defeat in beating them 35-7 in late August in a warm-up test but Davids insisted that result was no reference for the impending final.
"This will be a completely different game. We will try to improve from lessons learned in different areas and just see where we can outsmart them," he said.