The restoration site of the central tower of Angkor Wat in Siem Reap province, Cambodia, January 6, 2022. /Xinhua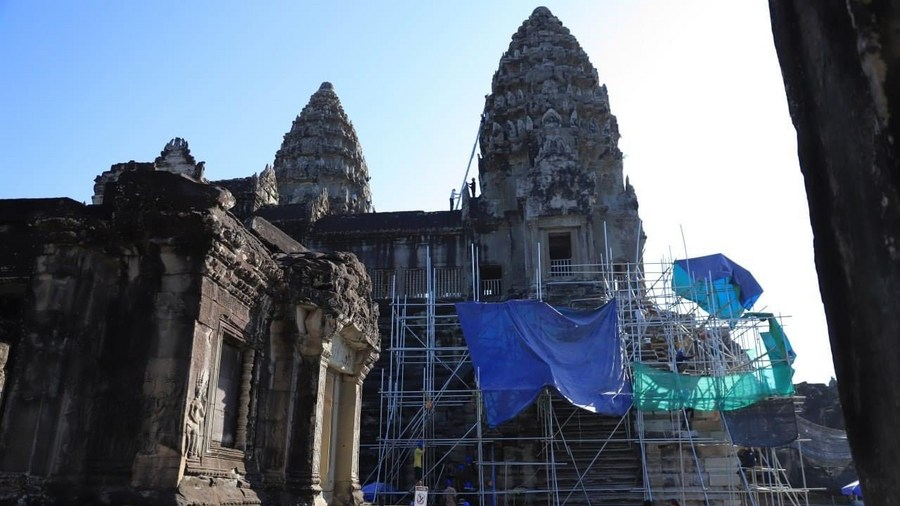 Space tech empowers BRI partners in heritage protection, food security
Read
4
minutes
A team of Chinese remote-sensing experts and archaeologists are working with their counterparts in Uzbekistan to establish a joint lab, that intends to use space information technology and field archaeology methods to search for ancient remains, and try to discover relics of an ancient nomadic people called Great Yuezhi wandering in Central Asia along the Silk Road.
Aided by Chinese and global remote sensing satellite data, global navigation satellite system and geographic information system analytical tools are set to bring to light the age-old heritage from more than 2,000 years ago of ancient river channels, springs, roads, lost oases and irrigation systems seen from the sky.
"Ancient cultural relics are 'material evidence' of human production and life in the past, which hold clues for us to understand today and the key to grasp the future," said Wang Xinyuan, a professor from the Aerospace Information Research Institute (AIR) under the Chinese Academy of Sciences, who participated in the project and just returned to China last weekend from Uzbekistan.
The ongoing collaborative work is part of the efforts of the Belt and Road Initiative (BRI) partner countries to promote the sharing of data from satellite imagery and other Earth observations across Asia, the Middle East, and Africa to drive up sustainable growth.
The BRI, consisting of the Silk Road Economic Belt and the 21st Century Maritime Silk Road, and initiated by China a decade ago, aims to build trade and infrastructure networks connecting Asia with Europe and Africa on and beyond the ancient Silk Road trade routes.
In 2016, Chinese scientists proposed the Digital Belt and Road (DBAR), a big Earth data framework under BRI, and it has received warm responses from and brought real benefits to its participating countries and organizations.
"Based on the methods and technological innovation of Big Earth Data, DBAR has served the sustainable development of BRI partner countries through sharing data, technology, and knowledge," said Guo Huadong, chairman of the DBAR, at the 7th DBAR Conference last month.
Ancient ruins
Wang led a Chinese group to promote heritage-related programs under DBAR. In 2016, it occurred to Wang and his overseas student from Tunisia that the landscape of the North African country is similar to northwestern China's Gansu Province, where Wang once used remote-sensing technology to study royal road relics from the Tang Dynasty (618-907) along the Silk Road.
Then, Wang's team started an investigation with support from Tunisian authorities. They analyzed remote sensing images from China's Gaofen satellites, ZY-3 density-sliced PAN images, and other satellites such as the WV-2 VHR image, Sentinel-2, and had three field trips together with local archeologists in 2017 and 2018 to identify the precise locations by using the satellite navigation and positioning system.
In 2018, ten previously unknown archeological sites in southern Tunisia were discovered, including some Roman forts, limes, a water supply system, three giant basins, and a cemetery.
Those millenary ruins, dating back to ancient Roman times, unveiled the layout of the south-line military defense system and irrigation system in ancient Rome.
Scientists from China, Tunisia, Italy, and Pakistan participated in this DBAR-heritage project, and it was the first time Chinese scientists discovered archaeological sites outside China using space information technologies.
In a letter of thanks, Dhia Khaled, then Tunisian Ambassador to China, highly appreciated the Chinese group's work. "It is scientifically significant in understanding Tunisian history," he said. "It has also played a positive role in promoting broad exchanges between the two countries."
DBAR's contribution to heritage protection also included a long-term remote scan over Angkor Wat, the main temple in the UNESCO-listed Angkor Archaeological Park in northwest Cambodia's Siem Reap province.
Another group of scientists from AIR has used remote sensing data from 1985 to 2016 to produce a "diagnostic report" on the relation between surface subsidence and the collapses of the ancient temple complex.
They identified that the seasonal changes in groundwater, thermal expansion and contraction of stone materials, and natural weathering triggered the temple's abnormal deformation of about 1 to 2 millimeters per year. The findings provided a more scientific basis for Angkor Wat preservation.
"The protection of the Silk Road heritage helps inherit splendid national cultures, enhance communications between nations, and promote mutual learning among civilizations," said Wang.
Food security
A team led by Wu Bingfang, also from AIR, developed a cloud-based platform called CropWatch that provides analysis of global and regional agroclimatic conditions, crop growth assessments, arable land use monitoring, crop area estimation, yield predictions and prospects for the global food supply.
The CropWatch team has organized capacity-building workshops in 24 developing countries with more than 300 people from government agencies and research institutions trained in cloud-based agricultural monitoring.
After three technique training courses, Mozambique managed to use the CropWatch platform to "generate monthly agriculture bulletins during the rainy season, which informs policymaking at national and provincial-level agriculture departments," said Hiten Jantilal, an official from the country's ministry of agriculture and rural development.
CropWatch has been selected as one of the rural solutions in 2020 by the International Fund for Agricultural Development (IFAD) due to its support in crop monitoring for food security in Mozambique. The CropWatch platform has been used in more than 20 BRI partner countries, including Mozambique, Mongolia, Thailand, Vietnam, Cambodia, Myanmar, Zambia, Zimbabwe, and Kyrgyzstan.
Also, DBAR's agricultural group and its collaborators from southern African countries, including Zimbabwe, Zambia, and Mozambique, have mapped out the national cropland map at a 10-meter resolution, and the map has been handed over to the Ministry of Agriculture and Food Security of those countries. The dataset helps the southern African nations to address challenges of agriculture productivity and climate change and to develop their agriculture sector.
In the past seven years, DBAR signed a Memorandums of Understanding with the UN Environment Programme, the International Science Council, the Committee on Data of the International Science Council, and the African Association of Remote Sensing of the Environment.
"DBAR has embarked on an ambitious journey to build a digital Silk Road for sustainable development," said Guo. "We invite even more natural and social scientists to join this shared endeavor."