Prime Minister Ntsokoane Samuel Matekane of the Kingdom of Lesotho (left) and South African President Cyril Ramaphosa (right) at OR Tambo Building in Tshwane. X/South African Presidency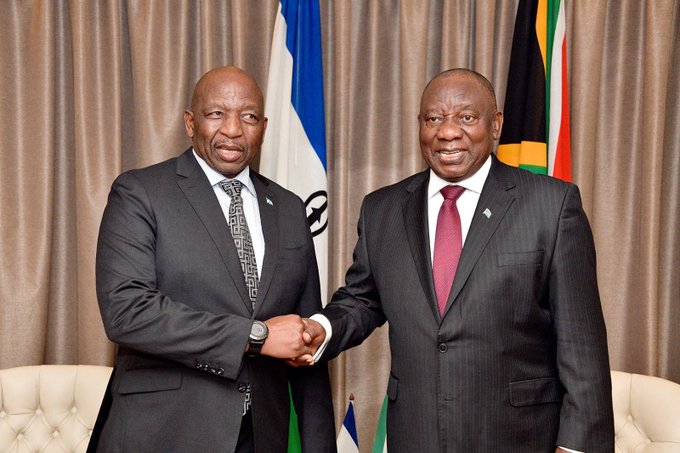 South Africa, Lesotho formalise elevation of bilateral relations during PM's visit
Read
2
minutes
South Africa and Lesotho have further strengthened their bilateral relationship by elevating the Joint Bilateral Commission of Cooperation between the two countries to a Bi-National Commission.
South African President Cyril Ramaphosa announced the upgrading of bilatarel ties on Thursday during the launch of the Inaguaral Lesotho-South Africa Bi-National Commission at OR Tambo Building in Tshwane. Lesotho's Prime Minister Ntsokoane Samuel Matekane was present for the inaugural session.
In November 2021, South Africa and Lesotho signed an agreement to elevate the structured bilateral mechanism from a Joint Bilateral Commission of Co-operation that is held at a ministerial level, to a Bi-National Commission that is presided over by the two Heads of State and Government.
Ramaphosa described the development as a testament to the unwavering commitment by both countries to further bolster their relations for mutual benefit.
"South Africa attaches great importance to its bilateral relations and cooperation with the Kingdom of Lesotho. Our relationship is anchored in historic bonds of language, culture and heritage," Ramaphosa said.
Ramaphosa also said South Africa and Lesotho will cooperate in the fields of water and energy security with one of the major projects in focus being the Lesotho Highlands Water Project (LHWP).
The LHWP is a project aimed at providing water to South Africa's Gauteng province and generating hydro-electricity for Lesotho. The first phase of the project was completed in 2003 and commissioned a year later. The project's second phase is currently underway.
Ramaphosa said South Africa was ready to cooperate with Lesotho to resolve any challenges that may arise in the implementation of the project.
"The Lesotho Highlands Water Project also contributes to job creation in Lesotho and the construction of new roads, bringing access to previously inaccessible areas of Lesotho," Ramaphosa said.
Ramaphosa also welcomed a commitment by Lesotho to cooperate in addressing challenges arising from illegal mining in South Africa, noting that the activity "carries a great social and economic cost for both our countries".
He added that both South Africa and Lesotho were working with mining company Harmony Gold to see how best to retrieve the bodies of dozens of illegal miners from Lesotho who were killed in a methane gas explosion at an unused mine in Welkom in May.
According to South Africa's Minerals Council, illegal mining is on the rise in the country with thousands of people involved either directly or indirectly. The Minerals Council has said the activity is widespread due to a combination of a difficult socio-economic climate and limited resources at the disposal of law enforcement agencies.