Somalia's Prime Minister Hamza Abdi Barre addresses the 78th session of the United Nations General Assembly, Saturday, Sept. 23, 2023 at United Nations headquarters. /CFP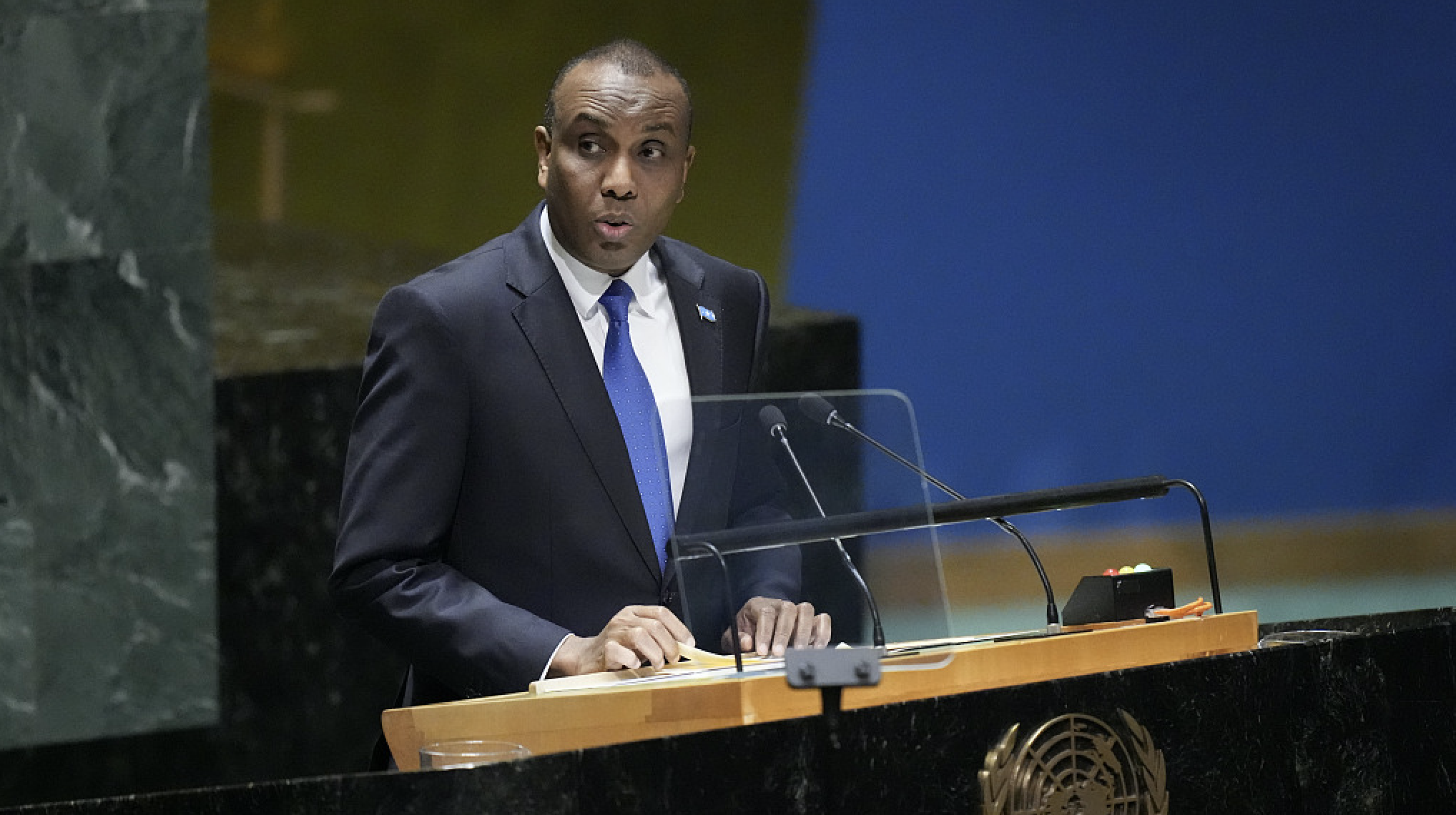 Somalia's PM urges urge global solidarity against extremism, climate change
Read
< 1
minute
Somalia's Prime Minister Hamza Abdi Barre in his address at the United Nations General Assembly (UNGA) on Saturday called for global solidarity against extremism and climate change.
Barre highlighted the impact of climate change and conflicts in his country, laying bare the damage both have had on the  African nation which seeks to emerge from years of brutal war.
He told the general Assembly that there was need to renew and accelerate actions aimed at steering the world towards achieving the Sustainable Development Goals.
"Climate change is an existential threat to humanity, and it is a challenge that knows no borders," Barre said, noting that it must be addressed through a unified will.
"In the past years, Somalia has been the victim of a vicious cycle of prolonged droughts and destructive floods that have killed thousands and displaced millions," he reported, pointing out that Somalia is the country that has the least to do with carbon emissions globally, but bears the breadth of the negative effects of climate change.
And as Climate Change continues to impact Somalia negatively, Barre also reported that it continues to struggle with militancy, even though gains have been made against terrorism.
Barre took the opportunity to appeal again to the international community to lift all sanctions placed against Somalia in order to enable the country emerge from its prolonged challenges.
The Prime Minister called for the complete and unconditional removal of the arms embargo imposed by the Security Council in 1992.
"It is the longest lasting and the widest and most comprehensive arms embargo in the world," he pointed out, adding that Somalia now has the necessary administrative systems, which are strict in controlling the possession, use and storage of firearms.