President of the Institute of the Black World 21st Century Ron Daniels speaking at the Africa Union reparation conference held in Accra, Ghana on Nov. 16, 2023. (Photo: AP)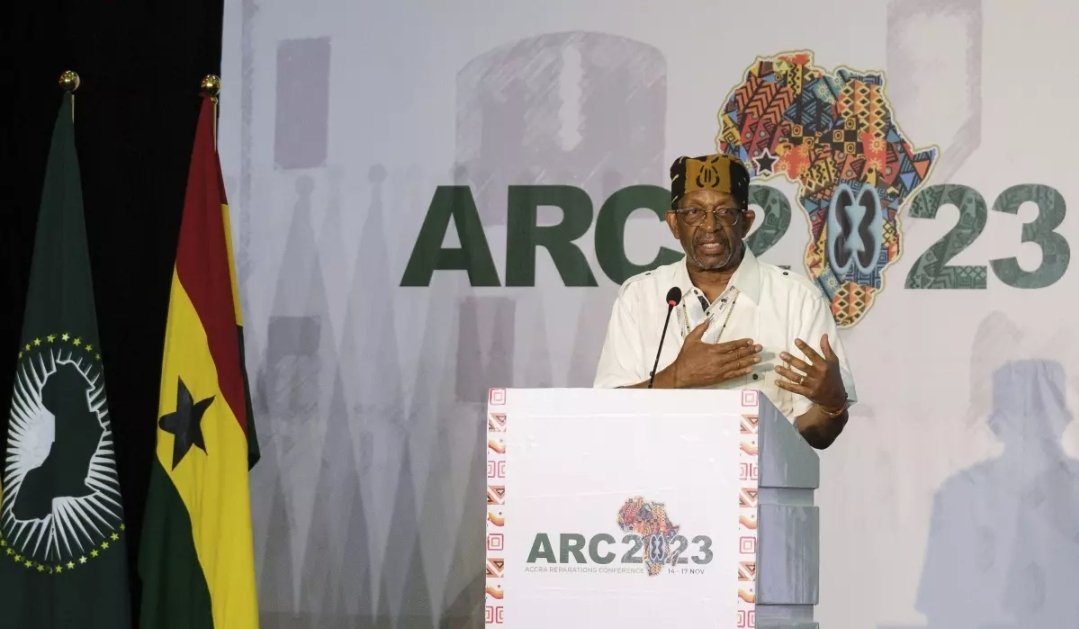 Reparations summit in Ghana calls for global fund to compensate Africans
Read
2
minutes
A Global Reparation Fund will be established to advocate for the long-overdue compensation for millions of Africans who were held as slaves during the transatlantic slave trade centuries ago.
The Accra Reparation Conference, held in Ghana on Thursday, is the latest in a list of efforts to provide reparations for slavery. More than 12 million Africans were forcibly abducted by European countries between the 16th and 19th centuries and sold into slavery on plantations in the Americas that produced wealth at the expense of suffering.
A report by a special UN forum concluded reparations remain "a cornerstone of justice in the 21st century" for people of African descent worldwide, even centuries after the end of the slave trade. The report concluded that these individuals continue to face systematic racial discrimination and radicalized attacks.
Ghana's president says 'world must confront issue of slave reparations'
Ghana's President Nana Addo Akufo-Addo, while speaking at the conference, said the issue of slave reparations is one the world "must confront and can no longer ignore".
"It is time for Africa, whose sons and daughters had their freedoms controlled and sold into slavery, to also receive reparations."
Addo specifically called out Britain and other European nations who enriched themselves during the slave trade while "enslaved Africans themselves did not receive a penny."
Compensations are based on "moral and legal rights and dignity of the people," said Ambassador Amr Aljowailey, strategic adviser to the deputy chairman of the African Union Commission, who read out the resolution titled The Accra Proclamation.
Not presently known how reparation fund will operate
Delegates did not say how such a reparation fund would operate. But Gnaka Lagoke, an assistant professor of history and pan-African studies, said it should be used to "correct the problems" that the continent is facing in all sectors of its economy.
Apart from the Global Reparation Fund, which will be supported by an expert committee established by the A.U. Commission in cooperation with African countries, a special envoy will engage in campaigns as well as litigation and judicial efforts.
Reparations, according to activists, should include more than just cash transfers; they should also cover aid for national development, the return of resources that were colonized, and the structural rectification of laws and policies that oppress people.
The required amount for compensation will be decided through a "negotiated settlement (that will) benefit the masses," said Nkechi Taifa, director of the U.S.-based Reparation Education Project.
(Story compiled with assistance from the Associated Press)