Morocco's Nesryne El Chad, center, celebrates with fans after the Women's World Cup Group H soccer match between Morocco and Colombia in Perth, Australia. /CFP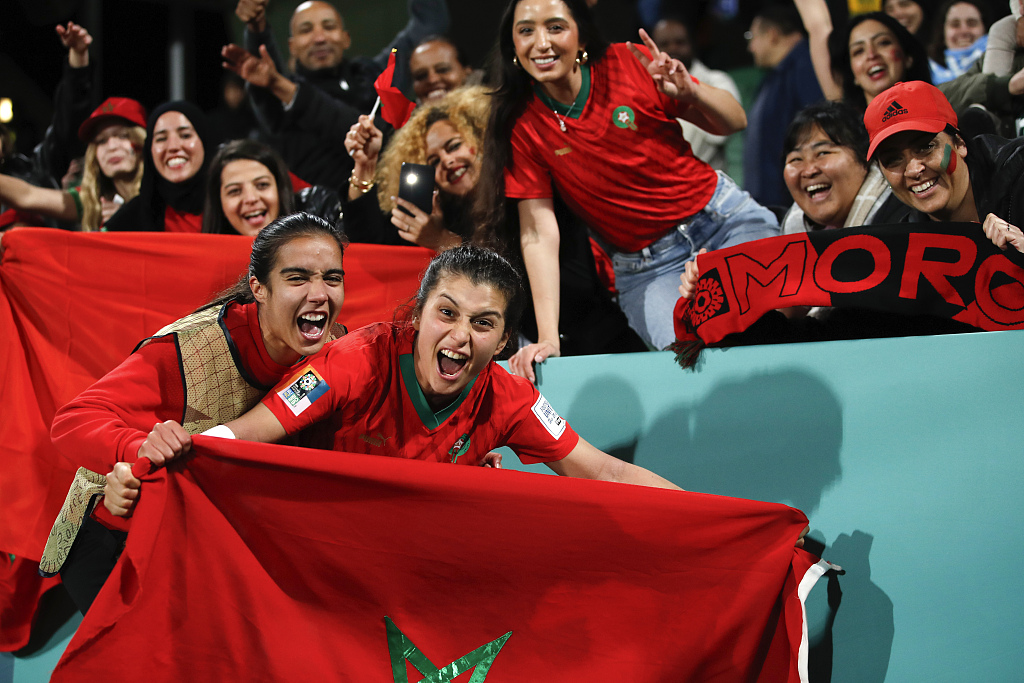 Morocco stuns Colombia to advance to last 16 at Women's World Cup
Read
< 1
minute
For the first time ever, three African teams will participate in the knockout stages of the FIFA Women's World Cup.
Morocco stunned Colombia 1-0 in their final Group H match in Perth on Thursday to qualify. With the win, Morocco joins Nigeria and South Africa in the Round of 16.
Despite the loss, the South Americans will also advance as Group H winners.
Anissa Lahmari scored the only goal of the game on the stroke of halftime from close range when Sakina Ouzraoui Diki squared the ball to her after Ghizlane Chebbak had her penalty saved by Catalina Pérez.
The Atlas Lionesses, like their male counterparts at the men's World Cup in Qatar, then mounted a spirited defensive effort to keep out the Colombians and secure the win.
Moroccan goalkeeper Khadija Er-Rmichi also pulled off a series of outstanding saves denying Daniela Montoya and Mayra Ramírez an equaliser.
Even after weathering the barrage of Colombian attacks, there was still a tense wait after the final whistle as the players awaited the result of Germany's game against South Korea. Germany could only draw 1-1 and crashed out of the group stage for the first time in their history.
نهاية المباراة بفوز و تأهل تاريخي إلى الدور القادم من كأس العالم للسيدات FIFA أستراليا ونيوزيلندا 2023 لمنتخبنا الوطني النسوي بعد فوزه أمام منتخب كولومبيا 👏🏻

🏁Full time !! 🇲🇦1-0 🇨🇴
𝐇𝐈𝐒𝐓𝐎𝐑𝐈𝐂𝐀𝐋 𝐌𝐎𝐌𝐄𝐍𝐓 🤯 as our Women's National Team advances to the next round of… pic.twitter.com/CpyKUBIm0c

— Équipe du Maroc (@EnMaroc) August 3, 2023
Morocco (72), who are making their debut at the Women's World Cup, are now the lowest-ranked team to make it to the knockout stage of the tournament. It is a remarkable turnaround for a team that lost its opening match 6-0 to Germany but followed it up with consecutive 1-0 victories to progress.
Morocco is the second African nation to reach the knockout stages of successive men's and women's World Cups since Nigeria did so in 1998 and 1999.
Morocco will play France on August 8 for a place in the quarterfinals.
(Story compiled with assistance from wire reports)