Japan's Saki Kumagai kicks the ball clear of Zambia's Barbra Banda, left,during the Women's World Cup Group C soccer match between Zambia and Japan in Hamilton, New Zealand. /CFP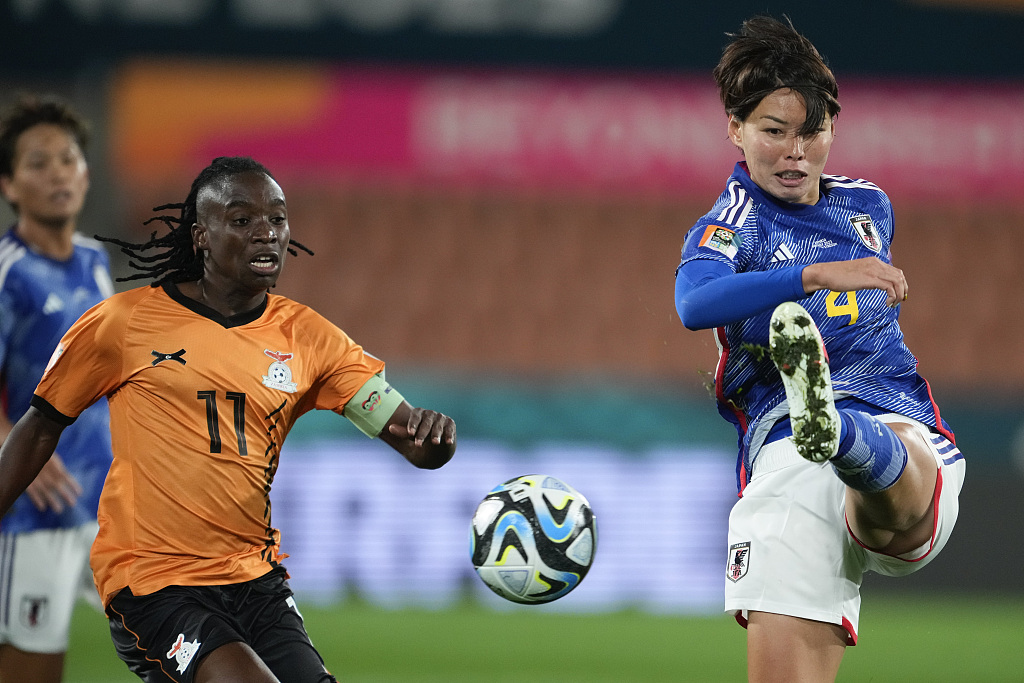 Japan off to a flier with 5-0 win over debutants Zambia
Read
2
minutes
Former champions Japan romped to a 5-0 win over Zambia in their Women's World Cup opener at Waikato Stadium on Saturday, outclassing the debutant Africans with a slick display of pass-and-move football.
Hinata Miyazawa scored twice and fellow forward Mina Tanaka found the net in the second half after having two earlier efforts called back for offside by VAR.
Winger Jun Endo added the fourth in the 71st minute and substitute Riko Ueki got the fifth from a penalty in stoppage time after Zambia goalkeeper Catherine Musonda had been dismissed for two yellow cards.
Japan join Spain, who beat Costa Rica 3-0 in Wellington on Friday, at the top of Group C ahead of their second match of the tournament against the Central Americans in Dunedin on Wednesday.
"Five-nil is good but getting the three points for the win was really satisfying," said Japan coach Futoshi Ikeda.
"Many of our squad were inspired by the 2011 Nadeshiko team when they were growing. We would like to take up the challenge again, to be the champions."
Winners of the 2011 World Cup and runners-up in 2015, Japan lined up in an attacking 3-5-1 formation and looked like a team on a mission from the start.
They had already drawn two fines saves from Musonda, hit the post, and had a Tanaka goal ruled out before Miyazawa struck for the first time in the 43rd minute.
Playmaker Yui Hasegawa sent Aoba Fujino racing down the right flank and the winger curled a beautiful cross into the box which Miyazawa lashed into the net.
Tanaka had another goal chalked off for offside in the 49th minute and VAR also called back a penalty awarded to Japan a couple of minutes later.
Thai-born striker Tanaka finally got a goal that counted in the 55th minute, sliding Endo's cross from the left into the right corner of the net.
Tanaka also got the assist on Miyazawa's second goal in the 62nd minute, pulling the ball back from the byline to allow her team mate the simplest of finishes.
The Nadeshiko were finding space behind the Zambian defence almost at will in the last 20 minutes and a Hasegawa pass found Endo all on her own with only Musonda to beat for the fourth goal 19 minutes from time.
Ueki needed two attempts to convert the late penalty that saw Musonda sent off, substitute goalkeeper Eunice Sakala saving the first but penalised for encroachment.
Zambia captain Barbra Banda, who scored the winner when they beat twice World Cup winners Germany two weeks ago, struck an isolated figure up front and the Africans did not register a single shot at goal.
"We have not played well this evening," Zambia coach Bruce Mwape told reporters.
"It's not the end of the world, I'm sure we can still come back and fight for a qualification spot."