A freighter loads cargos for export to South Africa at a pilot free trade zone in Qingdao, east China's Shandong Province, June 22, 2022. /CFP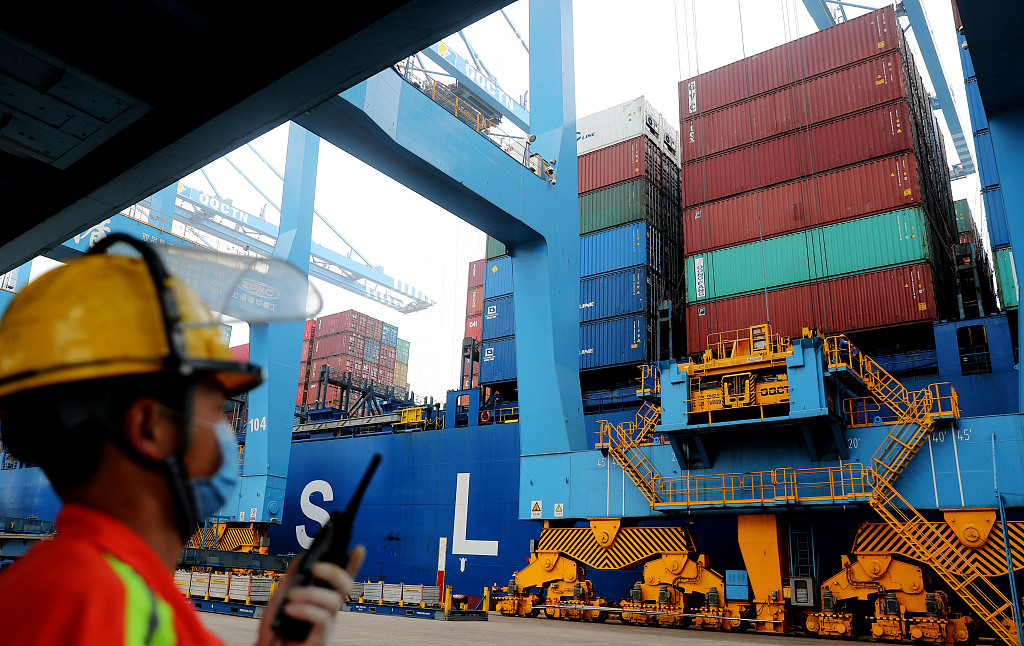 How does BRICS mechanism seek win-win cooperation for common development?
Read
3
minutes
The BRICS mechanism has walked a glorious 17-year journey since its establishment in 2006.
As representatives of emerging markets and developing countries, BRICS countries have deepened strategic partnerships, played the role of "stabilizers" and "accelerators" of development and injected BRICS power into the stability of the global market.
Upholding the spirit of openness, inclusiveness and win-win cooperation, BRICS countries continue to deepen practical cooperation and bring positive energy to the world economy.
Strong BRICS cooperation
Together the output of BRICS countries accounts for 23 percent of the world's total economic output. Meanwhile, their trade in goods and foreign investment account for 18 percent and 25 percent of the world's total, respectively, making the bloc an important force that cannot be ignored in the world economy.
Maintaining good economic and trade cooperation momentum, BRICS countries have made significant contributions to improving global economic governance and promoting global economic recovery and high-quality development.
China has been Brazil's largest trading partner since 2009. Bilateral trade volume between the two countries reached $171.49 billion in 2022, a year-on-year increase of 4.9 percent, data from China's General Administration of Customs shows.
Last year, the bilateral trade volume between China and Russia was at a record high of $190.271 billion. China has been Russia's largest trading partner for 13 consecutive years.
One of the landmark achievements of BRICS cooperation, the New Development Bank has approved 99 loan projects totaling more than $34 billion since its establishment more than seven years ago, providing a strong guarantee for infrastructure construction and sustainable development in emerging markets and developing countries.
China hosted the 14th BRICS Summit in June last year, where the Beijing Declaration was issued. The declaration covers areas such as strengthening and reforming global governance, maintaining peace and security, promoting economic recovery, accelerating the implementation of the 2030 Agenda for Sustainable Development, deepening people-to-people and cultural exchanges, and improving the building of the BRICS mechanism.
"The uniqueness and influence of the BRICS mechanism are attracting more developing countries to join," Rong Ying, vice president at the China Institute of International Studies, told CGTN.
The 15th BRICS Summit will be held in Johannesburg, South Africa from August 22 to 24, and more countries are expressing their intention to join the bloc.
Forging global development
Under the sluggish global economic recovery in recent years, development issues have increasingly been marginalized on the international agenda.
About 1.2 billion people in nearly 70 countries face health, food, energy and other challenges.
To muster concerted efforts and chart the course for global development ranks high on the agenda of the BRICS cooperation.
The China-proposed Global Development Initiative (GDI) aims to build a global community of development with a shared future.
China has called on all countries to increase their input in development and advance cooperation on poverty alleviation, food security, development financing, climate change, green development, industrialization, the digital economy and connectivity.
The GDI has so far received positive responses and support from more than 100 countries and international organizations, including the United Nations (UN), and about 70 countries have joined the Group of Friends of the GDI.
China's efforts for the implementation of the GDI also include upgrading the South-South Cooperation Assistance Fund to a Global Development and South-South Cooperation Fund, adding $1 billion to the fund in addition to the $3 billion already committed, and increasing its input in the UN Peace and Development Trust Fund.
The High-level Dialogue on Global Development held last June yielded 32 deliverables, including the launch of the Digital Literacy and Skills Improvement Initiative, the promotion of connectivity among customs authorities and other supply chain stakeholders, and deepened research and development cooperation on vaccines to improve vaccine self-sufficiency in developing countries.
"BRICS mechanism provides developing countries with experience and promotes common development," Selcuk Colakoglu, director of the Turkish Center for Asia-Pacific Studies (APAC), told China Media Group.