A woman, who fled amid a drought, carries her baby at a makeshift camp for displaced people on the outskirts of Mogadishu, Somalia. /CFP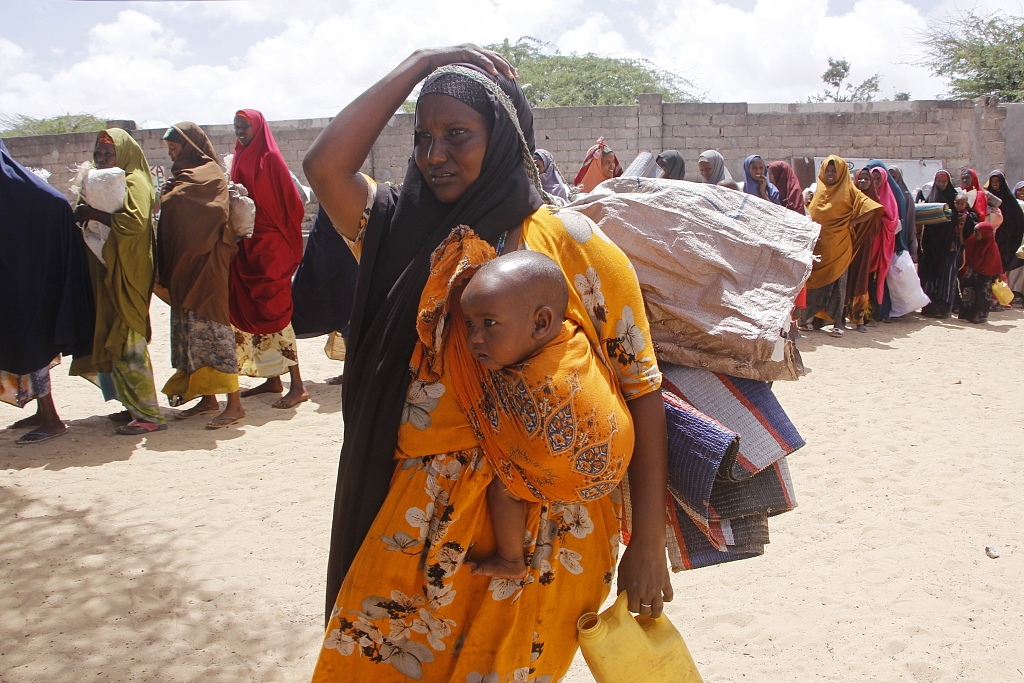 Empowering women in global leadership: A call to action for climate and health equity
Read
3
minutes
More women need to be empowered to allow them to participate in the decision-making, design, and implementation of climate strategies as the world steps up the battle against climate change and its devastating effects.
This is according to a publication by Dr. Maxime Houinato, Regional Director at UN Women Africa, and Dr. Norah Obudho, East Africa Program Director at WomenLift Health.
Houinato and Obudho said the move is particularly crucial in Africa, where women's leadership is seen as an exception rather than the norm and a lack of representation in leadership undermines the rights and futures of women, girls, and entire communities.
According to the UN, only 26.5 percent of parliamentarians in single or lower houses are women. In Sub-Saharan Africa, women hold 26 percent of parliamentary seats while 18 percent of women hold parliamentary seats in Northern Africa.
The UN estimates that gender parity in national legislative bodies will not be achieved before 2063 at the current rate of progress.
Additionally, women account for just 15 percent of the world's environment ministers and occupy about 25 percent of senior leadership positions in global health, despite making up 70 percent of the health workforce.
Houinato and Obudho argued that the "overwhelmingly male" face of leadership had led to "inequitable solutions developed from the dissection of challenges viewed through a male lens."
They added that the desire for the world to achieve its climate and health targets must be accompanied by a willingness to challenge the status quo and rethink global leadership.
UN agencies have found that women are the first to feel the effects of climate change when they are forced to travel longer and longer distances to search for something they need to feed their families.
Women also bear a higher responsibility in terms of healthcare as they form a majority of the caregiving population. They also have to contend with fragile health during pregnancy and motherhood.
Houinato and Obudho further argued that having more women in leadership will result in more gender-responsive solutions to intertwined climate and health challenges.
"Bold, female leadership can enable more women to adapt to climate change by addressing issues including discriminatory laws, access to and control of land and marine resources; exclusion from financing for climate adaptation; dependence on agriculture and the informal economy for employment; poor access to clean water, sanitation, hygiene, and energy infrastructure, limited access to and use of new technologies, and high exposure to sexual and gender-based violence, among others," they wrote.
However, Houinato and Obudho stressed that time was of the essence and men in power needed to use their influence to create more room for women to lead.
"The clock is ticking. Addressing the climate crisis is a global health, economic, gender equity, and human rights imperative, and it must be treated as such," they wrote.
"With little progress made on climate commitments and the achievement of the SDGs woefully off-track, now is the time for bold, decisive action led by visionary leadership that is also diverse, equitable and inclusive."
They also highlighted the upcoming World Health Summit and COP28 were opportune moments to center the voices of women in these discussions and to demand action for gender and racial equity in leadership to address climate change.
"We do not have the luxury of time to spend over a century debating the issue of equitable leadership for a healthier planet and people."
"By reimagining the face of leadership in health and climate to close the glaring gender gaps at all levels of decision-making, we can steer our world towards resilience and shared prosperity for the benefit of current and future generations."