A view of rubble after a 7 magnitude earthquake in Marrakesh, Morocco on September 9, 2023. /CFP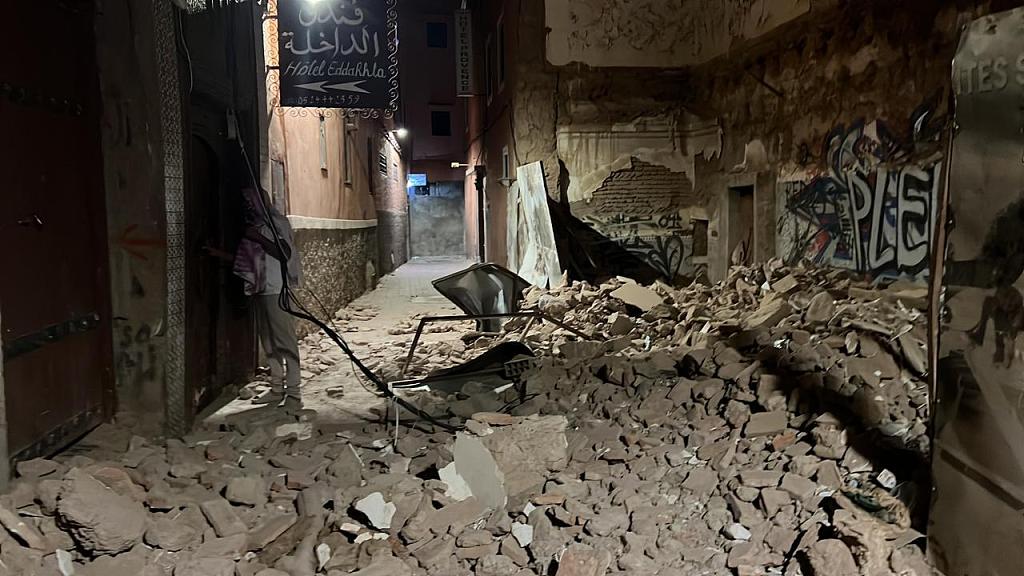 Deadly earthquake kills over 1,000 people in Morocco
Read
2
minutes
At least 1,037 people have been confirmed dead following a 6.8-magnitude earthquake in Morocco, which also left hundreds injured.
The deadly quake struck shortly after 11pm local time (22:00 GMT) on Friday evening, according to the United States Geological Survey (USGS).
According to Morocco's state television, the earthquake destroyed buildings and sent throngs of people into the streets as they fled to safety away from the crumbling structures.
The Interior Ministry said the earthquake killed people in the provinces and municipalities of al-Haouz, Marrakesh, Ouarzazate, Azilal, Chichaoua and Taroudant.
Others are still believed to be trapped under rubbles, even as search and rescue operations continue.
The USGS estimates that the epicenter of the quake occurred in the Al Haouz province, some 75 kilometers from Marrakesh, a popular tourist hotspot and the fourth largest city in the North African country.
There are concerns that aftershocks could happen, leaving residents in fear.
Morocco's King Mohamed IV has ordered the country's armed forces to mobilise air, land, specialised search and rescue teams and a surgical field hospital to help with the ongoing rescue efforts.
Various world leaders have sent their condolences to Morocco.
Indian Prime Minister Narendra Modi, who is hosting world leaders at the G20 Summit in New Delhi, said on X social media platform: "In this tragic hour, my thoughts are with the people of Morocco. Condolences to those who have lost their loved ones. May the injured recover at the earliest. India is ready to offer all possible assistance to Morocco in this difficult time."
His Dutch counterpart Mark Rutte expressed his condolences to Morocco through Prime Minister Aziz Akhannouch.
"My thoughts are with the many victims of this disaster and with the local emergency services," Rutte said.
The United Nations Secretary General Antonio Guterres also sent his condolences to the North African country and also offered the organization's readiness to assist where needed.
"The Secretary-General expresses his solidarity with the government and people of Morocco in these difficult times. He addresses his most sincere condolences to the families of the victims and wishes a speedy recovery to the injured," Guterres's spokesperson said in a statement.
Multiple countries have also expressed willingness to send aid and personnel to help with the rescue efforts.