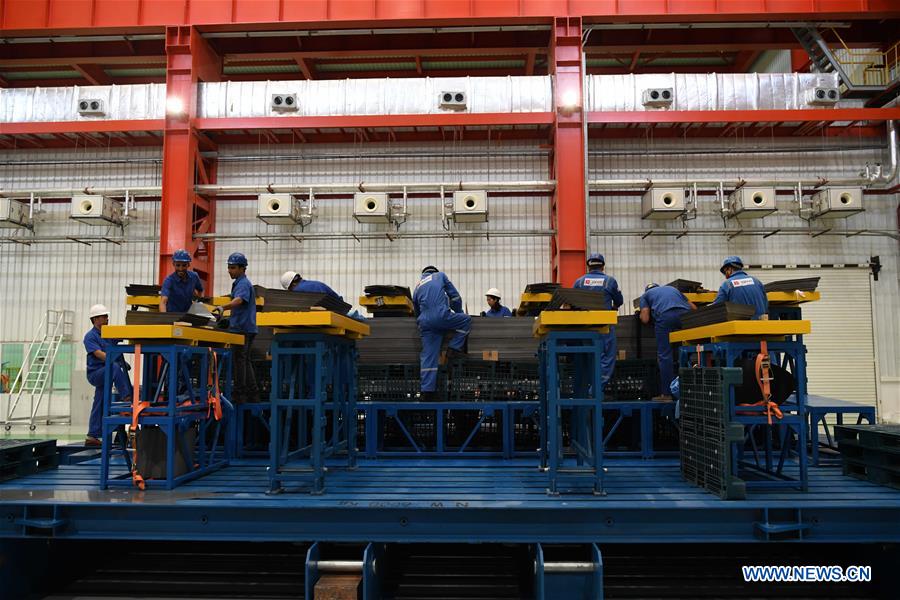 China-Egypt joint venture leads high-voltage equipment manufacturing in Egypt
Read
3
minutes
A China-Egypt joint venture has successfully established its leading position in the high-voltage equipment manufacturing in Egypt, while helping end the Arab country's previous reliance on imports of top-end transformers.
The joint venture, XD-EGEMAC High Voltage Electric Equipment Co. established in 2009 by China's XD corporation and Egypt's EGEMAC, has increased the percentage of local manufacturing of high-voltage equipment up to 40 percent so far.
Located in the Chinese-operated TEDA industrial zone in Egypt's Ain Sokhna district of Suez Province, on an area of 276,000 square meters, XD-EGEMAC premises include a GIS plant and an adjacent power transformers factory.
It has been contributing to the development of the industry in Egypt through constructing GIS (gas insulated switchgear) substations and introducing power transformers manufacturing in the most populous Arab country.
Thanks to XD's expertise and technologies, XD-EGEMAC has managed to build several GIS substations in different parts of Egypt besides its power transformer factory that is currently producing, not just assembling, high voltage transformers for the Egyptian local market.
"The technologies of XD-EGEMAC is completely imported from China XD, but we're promoting the localization of our products manufacturing in Egypt, which will be increased step by step," said XD-EGEMAC General Manager Li Zhifu.
XD holds 51 percent of the consortium shares while EGEMAC holds the other 49 percent. XD-EGEMAC's main products, whether GIS substations or power transformers, are mainly for the Egyptian local market, but it also plans to export its high voltage products to neighboring countries in the Middle East and Africa in the future.
"Most of the high voltage equipment in Egypt was 100-percent imported but now we have increased the local manufacturing percentage up to 40 percent and our target is to reach 60 percent in the near future," Li told Xinhua at his office in the administrative building of the company.
XD-EGEMAC can now produce power transformers with the biggest capacity of up to 220kv. It has also built substations and supplied transformers in different Egyptian provinces including the capital Cairo, as well as other governorates of Giza, Qalyubia, Suez, Damietta, Minya, Sohag and Aswan.
"This year, we signed a contract to build a 500kv substation for Nag Hammadi in Qena Province and now we have negotiations for building substations in Giza, Fayoum and other places. We're working in more than 15 sites this year in Egypt," Li said.
The GIS factory has a main workshop with a total area of 7,871 square meters, whose annual production scale is approximately 210 bays for 72.5-550kv GIS equipment.
The nearby transformer factory, which can manufacture all types of power transformers from 66kv to 500kv, has a main workshop with an area of 8,521 square meters and an overhead crane that can lift up to 160 tons.
Mohamed Anwar, head of the transformer manufacturing department at XD-EGEMAC, said the transformer factory will manufacture transformers with a capacity of 500kv.
"China's XD is a school for technology. It has a distinguished technological approach that is even different from similar Chinese power transformer manufacturers. We benefited a lot from XD technology and from its transfer to Egypt," the engineer told Xinhua at the transformer factory.
The company has some 200 employees and technicians working indoors and around 500 others working in its different project sites across Egypt.
At the winding workshop of the transformer factory, Egyptian technicians said they learned a lot in the field of power transformer manufacturing thanks to the technology introduced by XD.
"Power transformer manufacturing is the locomotive of power industry and Egypt's entrance in this field is a big leap," said Amr Abdel-Razek, a technician at the winding department who has been working for XD-EGEMAC for two years.
He added that Egypt used to import power transformers from abroad, "so it is very important that we started to manufacture transformers with Egyptian hands not just assembling them."
Abdel-Razek stressed that the field is new to Egyptian technicians and engineers but they are capable of comprehending it very fast.
"Egypt and China are very old and close civilizations with a lot of similarities, so there is much integration here in the company between the Egyptians with their fast work and the Chinese with their expertise and efficiency," said the technician.