Prime Minister of India Narendra Modi (C-L) and South African President Cyril Ramaphosa (R) arrive for the 2023 BRICS Summit at the Sandton Convention Centre in Johannesburg on August 23, 2023. /CFP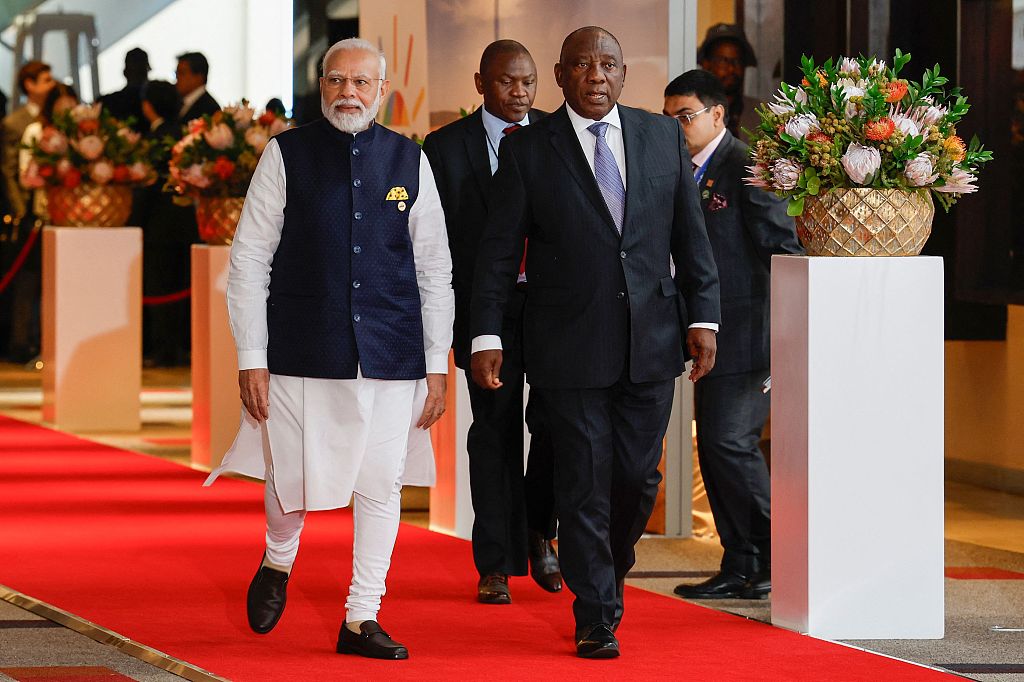 BRICS grouping beneficial for South Africa, Ramaphosa says
Read
< 1
minute
South Africa's participation in BRICS has yielded significant results across multiple sectors in the country, according to President Cyril Ramaphosa.
While addressing Parliament on Tuesday, Ramaphosa outlined some of the benefits the country has enjoyed since it joined the bloc.
President Ramaphosa said South Africa uses its membership in the bloc to improve investment, trade, tourism, capacity building, skills, and technological capabilities. He further noted that strengthening economic and financial ties between BRICS countries is another key pillar of its cooperation.  
"South Africa's overall trade with its BRICS partners has increased by an average of 10 percent every year over the period 2017 to 2021. Total South African trade with other BRICS countries reached R830 billion (43.05 million U.S. dollars) in 2022, which represents an increase of more than 70 percent from R487 billion (25.26 million U.S. dollars) in 2017," he said.

Ramaphosa affirmed that the BRICS grouping is an important source of foreign direct investment in key areas such as mining, automotive, transportation, clean energy, financial services, and information technology, noting that such investments and projects help create jobs.  
He also pointed out that the addition of six more nations into BRICS is a step in the right direction and bodes well for South Africa.
"The inclusion of Argentina, Ethiopia, Egypt, Iran, Saudi Arabia, and the United Arab Emirates as new members of the group will strengthen beneficial cooperation with South Africa in political, economic, and financial matters. These countries will enhance economic partnerships in key sectors such as oil and energy, telecommunication and information technology, agriculture, textile, logistics, air transportation, and tourism and medicine," Ramaphosa said.