Members of the UAE Red Crescent distribute food aid to disaster survivors in Libya's eastern port city of Derna on September 17, 2023, following deadly flash floods. /CFP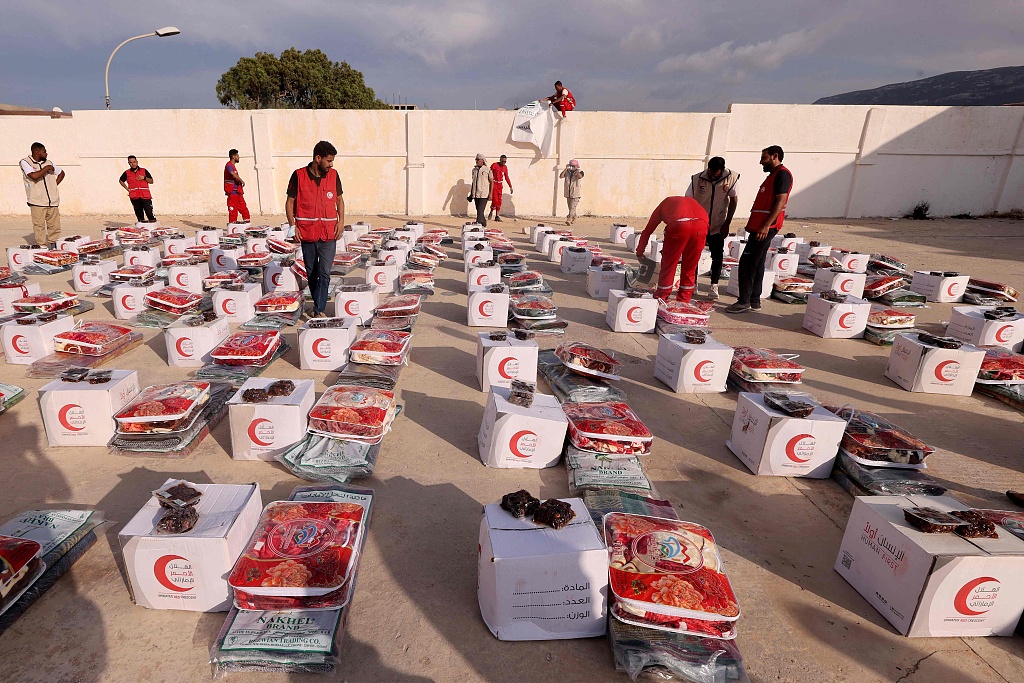 Aid efforts ramped up in Libya amid fears of impending humanitarian crisis
Read
2
minutes
Aid efforts have been ramped up in Libya's Derna city, which was ravaged by deadly floods earlier this month, although concerns remain that the city could face a humanitarian crisis in the aftermath of the disaster.
So far, the death toll from the floods caused by Storm Daniel, although initially feared to have surpassed 11,000, was revised by the World Health Organization (WHO) to 3,958.
More than 9,000 people are still missing, and these figures are expected to rise as search-and-rescue crews work to find survivors.
Various countries have rushed to send aid and emergency responders to the North African country to assist in search and rescue operations.
Despite a slow uptake, the operations have ramped up in past hours, as teams seek to restore normalcy in the wrecked city.
Some of the countries that have sent help include Türkiye, Saudi Arabia, Russia, Romania, the United Arab Emirates, Germany and Greece, among others.
Egypt dispatched on Sunday its Mistral aircraft carrier to Libya's coast to provide emergency relief for the people affected by deadly floods. The carrier will serve as a field hospital for the flood victims.
According to the latest data from the International Organization for Migration's Displacement Tracking Matrix, more than 40,000 people have been displaced across northeastern Libya, though the agency warns these figures are likely to be higher as access restrictions have limited data collection in the worst-affected areas, such as Derna, where at least 30,000 people have been displaced.
The UN also warned that storm Daniel's multi-faceted impacts have severely exacerbated already high levels of pre-existing needs and vulnerabilities, damaged or destroyed scores of homes, hospitals, schools and other critical infrastructure, and significantly increased the affected population's exposure to waterborne diseases and protection risks.
Last week, the UN launched an emergency flash appeal totaling 71.4 million U.S. dollars, and allocated 10 million U.S. dollars from the Central Emergency Relief Fund (CERF) to support people affected by the floods.