African Union Chairman and Comoros President Azali Assoumani (R) and India's Prime Minister Narendra Modi hug each other during the first session of the G20 Leaders' Summit at the Bharat Mandapam in New Delhi on September 9, 2023. /CFP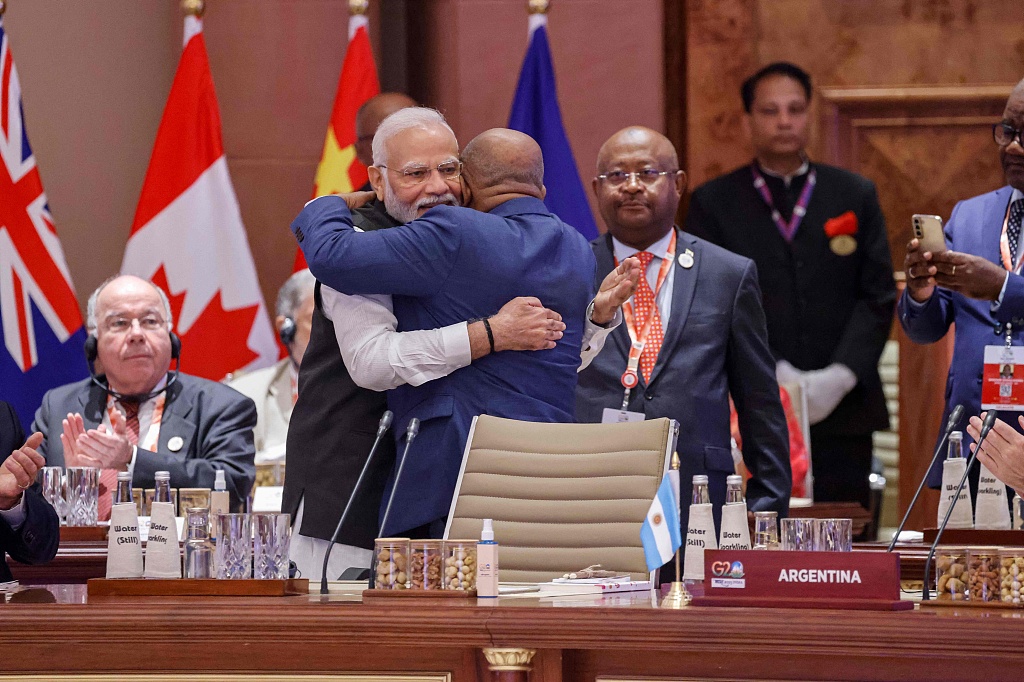 African leaders laud African Union's admission into G20
Read
2
minutes
African leaders have welcomed the admission of the African Union as a permanent member of the Group of 20 (G20), with most hailing it as an opportunity for the continent to furtrher its agenda on the global stage.
The inclusion of the bloc into the G20 was announced Saturday morning by Indian Prime Minister Narendra Modi
"I would like to invite the chair of the African Union to take his place as a permanent member of the G20," Modi said at the Summit as he invited Comoros President Azali Assoumani who also serves as the current Chairperson of the African Union, to take a seat at the table in a symbolic gesture.
In a post on X social media platform, Modi said he was "Honoured to welcome the African Union as a permanent member of the G20 Family. This will strengthen the G20 and also strengthen the voice of the Global South.
The remarks were a confirmation of his pledge as the August BRICS Summit in Johannesburg, when he said he would use India's chairmanship of the G20 to rally for the inclusion of the AU once and for all.
African leaders also took to social media to show their appreciation of the move.
The African Union Chairperson, President Azali Assoumani of Comoros, thanked the G20 member states for approving the inclusion of the African Union, terming the move "historic".
The African Union Commission Chairperson Moussa Faki Mahamat echoed President Assoumani's remarks.
"I welcome the African Union's entry into the G20 as full member. This membership, for which we have long been advocating, will provide a propitious framework for amplifying advocacy in favor of the Continent and its effective contribution to meeting global challenges," said Mahamat.
On his part, Senegalese President Macky Sall said: "I warmly thank all the members of the G20 for their support for this initiative that I carried during my mandate at the head of the African Union. Congratulations to all of Africa!"
South African President Cyril Ramaphosa also took to social media to express his delight, saying "We are delighted that the G20 has accepted the African Union as a member of the G20″.
The G20 previously comprised 19 countries and the European Union, with the members representing around 85 percent of global GDP, more than 75 percent of global trade and about two-thirds of the world population.