President of Kenya William Ruto delivers his remarks during the Africa Climate Summit 2023 at the Kenyatta International Convention Centre (KICC) in Nairobi on September 6, 2023. /CFP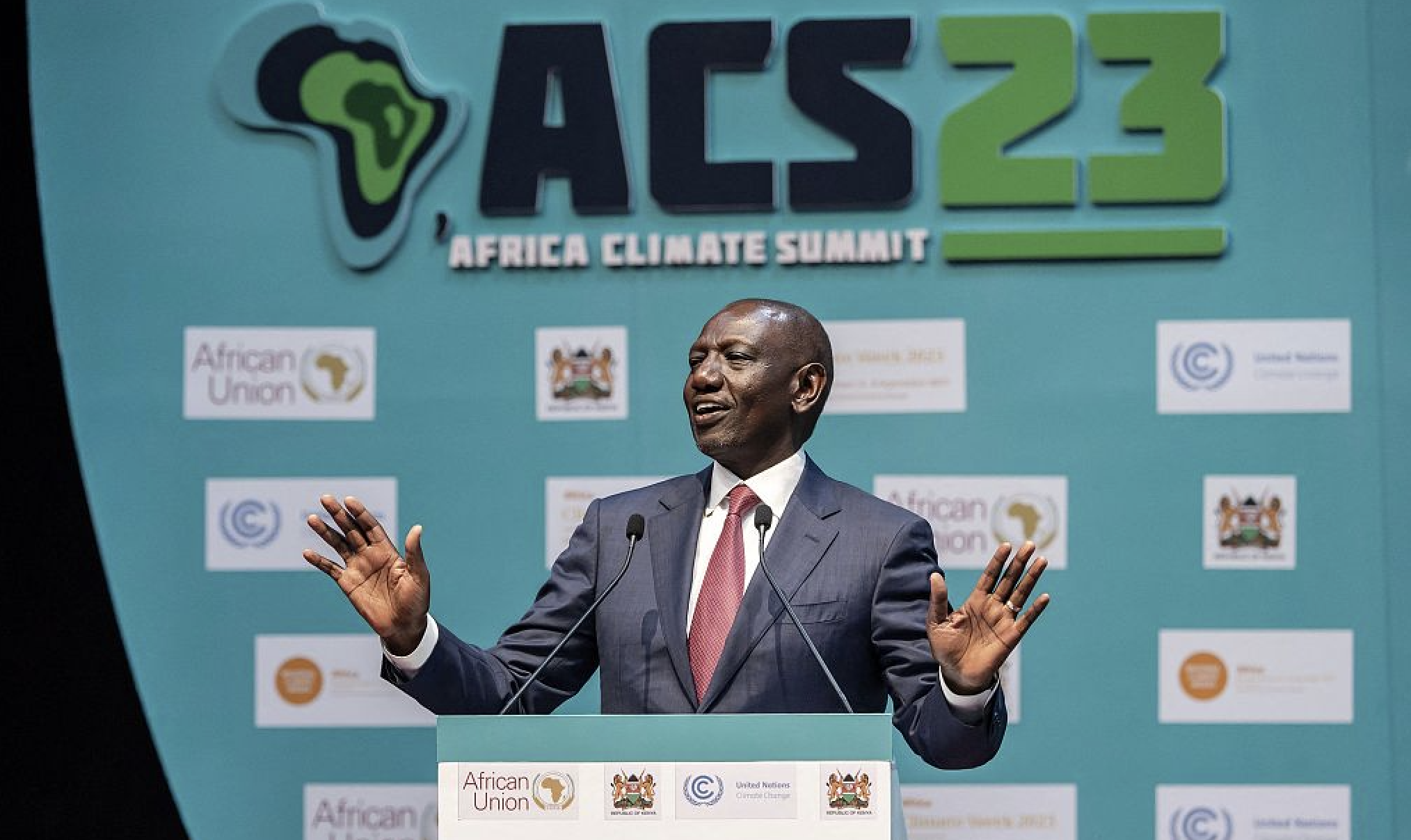 African leaders endorse Nairobi Declaration on Climate Change
Read
2
minutes
African leaders have endorsed the Nairobi Declaration on Climate Change, which unifies the continent's voice in the fight against climate change.
Announced at the conclusion of the inaugural Africa Climate Summit, the Declaration affirms Africa's collective position regarding various global efforts against climate change, and piles more pressure on the developed world to take responsibility for climate and environmental degradation.
Among other things, the Declaration, with a heavy emphasis on decarbonization, calls upon the global community to act with urgency in reducing emissions, fulfilling its obligations, keeping past promises, and supporting Africa in addressing climate change.
It reiterates calls for the acceleration of efforts to reduce emissions to align with goals set forth in the Paris Agreement, urges the international community to honor the commitment to provide 100 billion U.S. dollars in annual climate finance, calls on the global community to uphold commitments to a fair and accelerated process of phasing down coal, and abolishment of all fossil fuel subsidies, and also calls for the swift operationalization of the Loss and Damage facility agreed at COP27.
"The declaration we make to the world today defines and amplifies the African position on the way forward in climate action and the fundamentals that the international community must attend to in  order to ensure that humanity's economic and ecological imperatives are effectively, coherently and sustainably achieved," said Kenyan President William Ruto.
Speaking at the closing ceremony of the Africa Climate Summit, President Ruto expressed satisfaction that the gathering had achieved its goals, and as such strengthened Africa's resolve to tackle the climate crisis.
"Various stake holders including governments, the private sector, multilateral banks and philanthropists made commitments totaling 23 billion U.S. dollars for green growth, mitigation and adaptation efforts in Africa," the Kenyan president said.
Ruto further said Africa will take every opportunity after the Summit to further its climate agenda, starting from the G20 Summit in India and the United Nations General Assembly later this month.
Also speaking at the event, the African Union Commission's Chairperson, Moussa Faki Mahamat, announced that the Nairobi gathering was just the first of a series of formal climate deliberations that Africa will hold biennially.
"The African Union will work out a roadmap for this declaration and will propose to the member states to make climate change the theme of 2025-2026. Similarly, a proposal has been made to the member states that the Africa Climate Summit be institutionalized and held every two years. So let us bring forth our ideas on the next summit in two years time," said Mahamat.
Read the full African Leaders Nairobi Declaration on Climate Change here; NAIROBI DECLARATION