Saudi Arabia's Crown Prince and Prime Minister Mohammed bin Salman (L) South Africa's President Cyril Ramaphosa (C) and Turkey's President Recep Tayyip Erdogan attend the first session of the G20 Leaders' Summit at the Bharat Mandapam in New Delhi on September 9, 2023. /CFP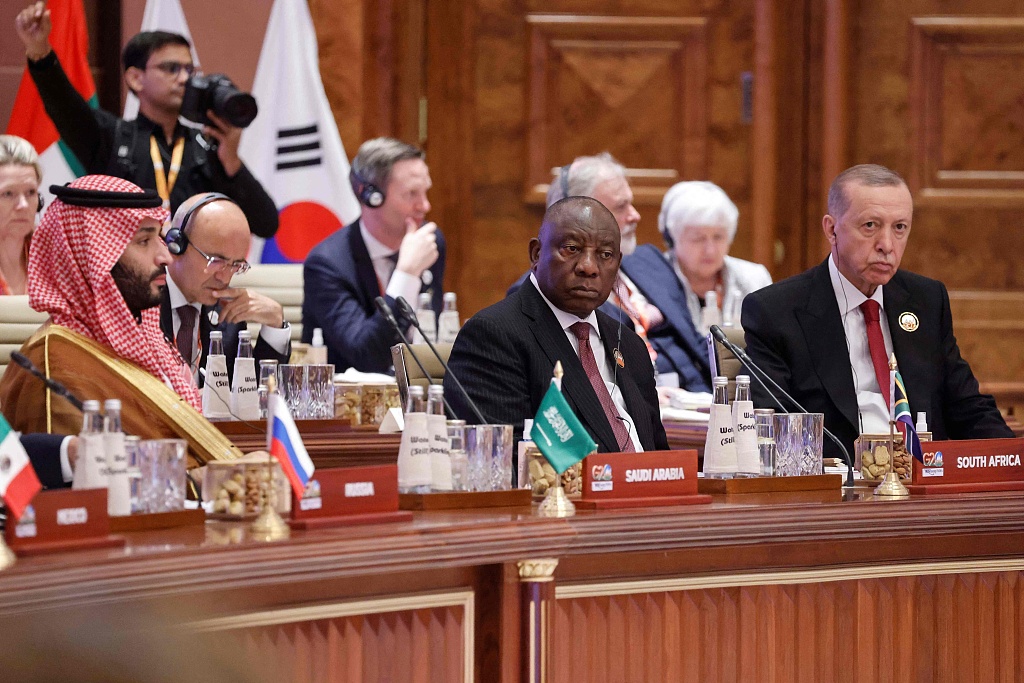 African leaders at G20 amplify calls for developed world to take more responsibility for climate change
Read
2
minutes
African leaders at the G20 Summit in New Delhi have amplified calls for industrialized countries to take greater responsibility for climate change.
The calls came just few days after the inaugural Africa Climate Summit.
South African President Cyril Ramaphosa, while advocating for a quicker response to climate change, called on the developed world to commit more towards tackling the phenomenon when addressing at the G20 Summit.
"No country is spared the effects of climate change," Ramaphosa said.
"It is therefore vital that we respond collectively, decisively and with urgency to this existential crisis. It is vital that industrialised countries, which have the means and which carry the greatest responsibility for climate change, support sustainable development in developing economies."
Also speaking at the G20 Summit, Egyptian President Abdel Fattah el-Sisi echoed Ramaphosa's call and also urged the developed countries to implement climate resolutions agreed on in past forums.
"In light of the gravity of the challenge posed by climate change and the global consensus on the importance of overcoming it, it is necessary for all parties to assume their responsibilities, based on the two principles of "Shared but Differentiated Responsibility" and "Equity", and to implement the resolutions adopted. Otherwise, trust will be lost and the multilateral action system will collapse," said el-Sisi.
Earlier in the week, African leaders gathered in Nairobi, Kenya, to unify the continent's voice against climate change.
In the resulting Nairobi Declaration on Climate Change, the leaders, with a heavy emphasis on decarbonization, called upon the global community to act with urgency in reducing emissions, fulfilling its obligations, keeping past promises, and supporting Africa in addressing climate change.
The Africa Climate Summit affirmed the continent's position that as currently set up, climate resolutions were biased against Africa, which is the least contributer to carbonization.
Multiple leaders at the gathering affirmed that Africa holds considerable resources vital to a clean energy future, which includes commodities essential in renewable energy generation, but the continent needs to benefit from its resources.