This video frame grab image obtained by AFP from ORTN - Télé Sahel shows General Abdourahamane Tchiani, Niger's new leader. /AFP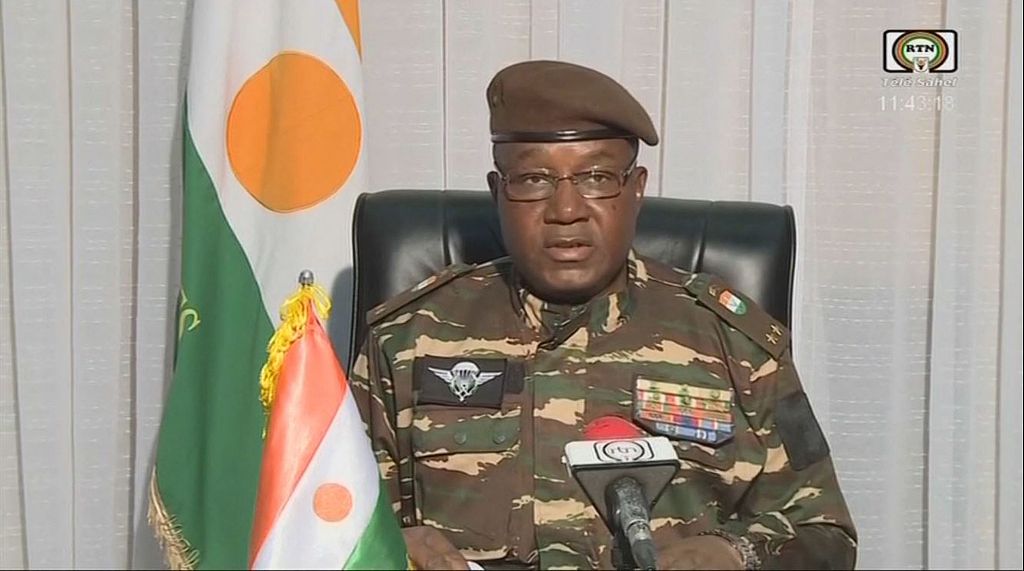 Abdourahamane Tchiani declared new leader of Niger
Read
2
minutes
General Abdourahamane Tchiani, leader of Niger's presidential guard, has been named "president of the National Council for the Safeguard of the Homeland" following a military takeover, state television reported Friday.
Soldiers in Niger have overthrown President Mohamed Bazoum, the country's Defense and Security Forces (FDS) said in a press release broadcast on state television late on Wednesday, hours after the president was allegedly held hostage.
"This follows the continued deterioration of the security situation, poor economic and social governance," said Col Maj Amadou Abdramane, a member of the FDS and National Council for the Safeguard of the Homeland, newly established by soldiers.
United Nations Secretary-General Antonio Guterres on Thursday demanded the immediate and unconditional release of Bazoum, as the world body is suspending humanitarian operations in Niger due to the situation in the country.
"The problem on the air right now is that our humanitarian flights cannot fly within the country which means that our humanitarian operations are suspended," Stephane Dujarric, spokesman for Guterres, told reporters later at a daily press briefing.
There are currently 4.3 million people in need of humanitarian assistance in Niger, compared to 1.9 million in 2017, Dujarric said.
More than 370,000 people are displaced within Niger, which also hosts more than 250,000 refugees, mainly from Nigeria, Mali and Burkina Faso, according to the spokesman.
Namibia strongly condemned the attempted coup in Niger on Thursday. In a statement, Penda Naanda, executive director in the Ministry of International Relations and Cooperation, said that Namibia stands firmly against any attempt to seize power through unconstitutional means.
"Namibia remains resolute in its stance on zero tolerance for acceding to power through unconstitutional means and supports the statement by the African Union on the attempted coup, in which it calls on the people of Niger, as well as all their brothers in Africa, particularly those in the Economic Community of West African States (ECOWAS), and around the world, to unite in unanimous condemnation of the coup attempt and to demand the immediate and unconditional return of the soldiers to their barracks," Naanda said.
The ECOWAS is a regional political and economic union of 15 countries located in West Africa.
West African leaders are closely monitoring the developments in Niger and would resist any attempted coup in that country, Nigerian President Bola Tinubu said Wednesday.
Tinubu, also chairman of the Authority of Heads of State and Government of the ECOWAS, said in a statement that he has been in close consultation with other leaders in the region. "The ECOWAS leadership will not accept any action that impedes the smooth functioning of legitimate authority in Niger or any part of West Africa."