FILE: Rescue workers and families of victims set up tents in front of collapsed buildings in Derna, Libya, on September 18, 2023. /CFP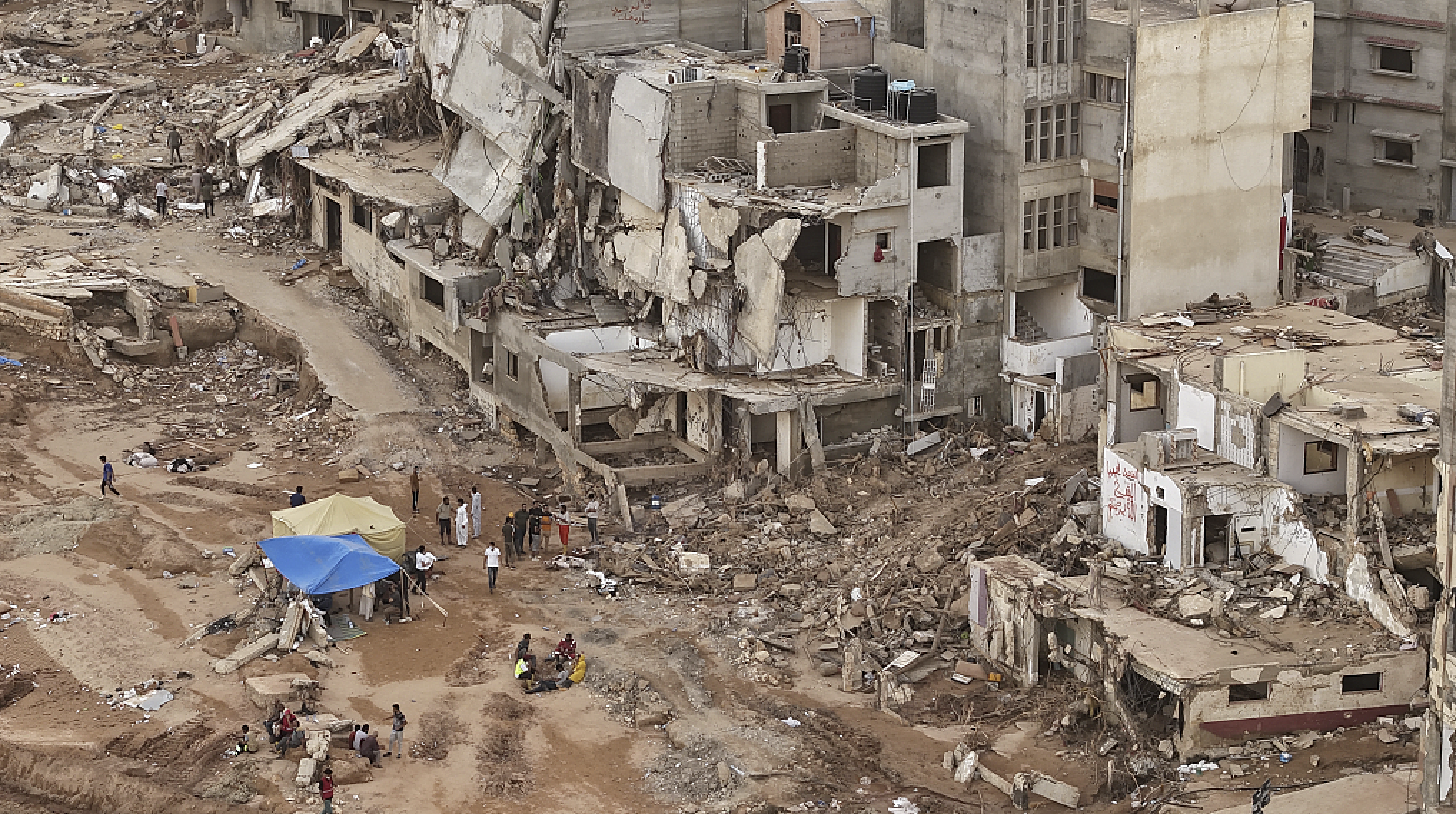 8,540 people still missing after Libya floods, death toll stands at 4,255
Read
2
minutes
Two weeks since devastating floods struck eastern Libya, some 8,540 people are still missing even as search operations continue in earnest.
According to the World Health Organization, 4,255 deaths have been confirmed due to the floods, but this figure could rise higher as local authorities joined by international search and emergency response teams continue to comb the affected areas in search of the missing persons.
United Nations agencies have appealed for US$71.4 million to meet the immediate humanitarian needs of 250,000 affected people in the next three months.
"As families grapple with their losses and consider their future, humanitarian agencies have stepped up to help them meet their basic needs," said Georgette Gagnon, United Nations Resident and Humanitarian Coordinator in Libya, following her second visit to Derna since the floods.
UN agencies reported that half of the 78 health facilities assessed in Derna and parts of Al-Jabar Al-Akhdar are either partially or totally non-functioning, heightening the risk of a health crisis in the region. Rushing floodwaters also destroyed water networks and sewage pipes.
Thousands of people were rendered homeless following the floods, as their homes and other structures were washed away by the raging waters.
Roads and bridges were also swept away, hindering movement of aid personnel and humanitarian supplies.
Gagnon however highlighted progress in ongoing efforts to remove debris, rehabilitate roads and deliver humanitarian assistance to affected people. Together with WHO and UNICEF, she reviewed access to essential health services and medical referral paths in Al Bayda and Shahat and met with displaced families in Derna.
She thanked Libyan and international search and rescue workers for their efforts to find survivors in the conditions, and commended the search and rescue operation.
Over the last 14 days, some 800 rescue workers from 12 countries have supported Libyan efforts on land and at sea. While many international teams have now demobilized, a number remain in Libya to support the Libyan-led recovery effort.